Neil Gaiman, Art Spiegelman, Alison Bechdel, Other Authors Step Up to Co-Host Free Speech Gala After Anti-Charlie Hebdo Walk Out
But do they call themselves intellectuals?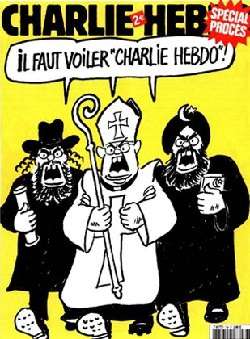 Last weekend six co-hosts of PEN America's annual gala over its honoring of the slain editors of the satirical Charlie Hebdo—killed by Islamist fundamentalists who didn't like the magazine's attacks on Islamist fundamentalism—pulled out, citing, for example, the French nation's "cultural arrogance," the magazine's "cultural intolerance" and the popular argument that Charlie Hebdo, which attacked all kinds of religious and secular fundamentalists and zealots as well as the French state and French culture, was "punching down." By last week, 145 "intellectuals" who belong to PEN, an association of writers, mind you, dedicated to "free expression," had announced their opposition to the gala. You have to read Matt Welch on the issue.
Fortunately, there's still joy in Mudville. PEN America announced cartoonists Art Spiegelman and Alison Bechdel, as well as author Neil Gaiman, who does a lot of cartoon work and helped force the literary establishment to respect the graphic novel form , will be among six new co-hosts for the gala. The New York Times reports:
The newly named hosts also include George Packer, Azar Nafisi and Alain Mabanckou, a French­Congolese novelist who will officially present the award.

"The Charlie Hebdo PEN award is for courage. The courage to work after the 2011 firebombing of the offices, the courage to put out their magazine in the face of murder," said Mr. Gaiman in an email to The Times. "If we cannot applaud that, then we might as well go home… I'll be proud to host a table on Tuesday night."
After the Charlie Hebdo massacre, Spiegelman explained why he felt the need to join pro-Charlie protests. Via Democracy Now:
The cartoonist's job is that—it's why I was at a demonstration last night at Union Square in support of what happened—ofCharlie Hebdo, with mostly French Americans, a few hundred of them, shouting. I felt really like in a minority, not because I'm a secular Jew, but because I'm an American in this demonstration that was mostly the French, feeling this very viscerally. And so, among all of the shouts of "Nous sommes Charlie Hebdo! Nous sommes Charlie Hebdo!" I'm there going, "Cartoonists' lives matter! Cartoonists' lives matter!" And this had to do specifically with that mandate to say the unsayable. It's an important thing in order to be able to focus you on what needs to be said, if you want to be talking about the primacy of language, of verbal language.
Read that whole interview, where Spiegelman also explains why political cartooning is so awful, here.