Big Cable Merger Effort Dies, Protests Shut Down College, That Stupid, Jokey Presidential Press Dinner is Back: P.M. Links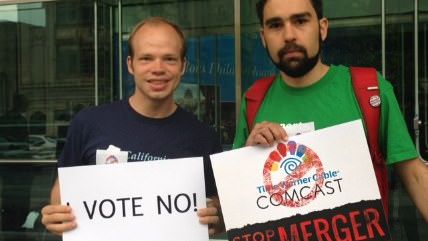 (Free Press Pics / photo on flickr)
Credit: Free Press Pics / photo on flickr

The Comcast, Time Warner Cable merger has been killed, which is probably being seen as some sort of victory for "competition" from people who have no idea what the word means or how Internet innovation is changing the whole dynamic of television service anyway.

Valdosta State University in Georgia has shut down entirely over fears of violence over protests about racism that led to other protests about how a flag was treated, and then somebody apparently brought a backpack with a gun in it to the campus.
Sen. Rand Paul (R-Ky.) is the first of the crop of announced candidates for president to sign the Americans for Tax Reform's pledge to "oppose and veto any and all efforts to increase taxes." (UPDATE: Sen. Ted Cruz (R-Texas) tweeted out a picture this afternoon of himself also signing the pledge.)
Italian police rounded up 18 people they claim are Islamic extremists behind a failed effort to attack the Vatican in 2010 but who were successful in a very deadly bombing of a market in Pakistan.
Four Swedish police officers on vacation in New York stopped a fight on the subway, firmly but politely and without smashing skulls.
It's time for the White House Correspondents' Association dinner again this weekend, and all the blather and fretting that entails, all of which, either pro or con, is of interest only to journalists.
Eric Holder is outta here.
Follow us on Facebook and Twitter, and don't forget to sign up for Reason's daily updates for more content.