Carly Fiorina to Enter GOP Presidential Race, Likely to Contrast Her Candidacy with Hillary Clinton's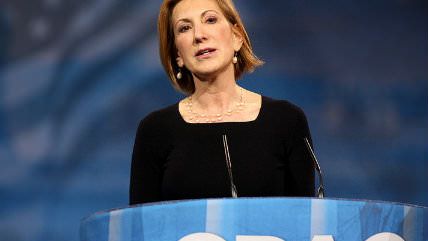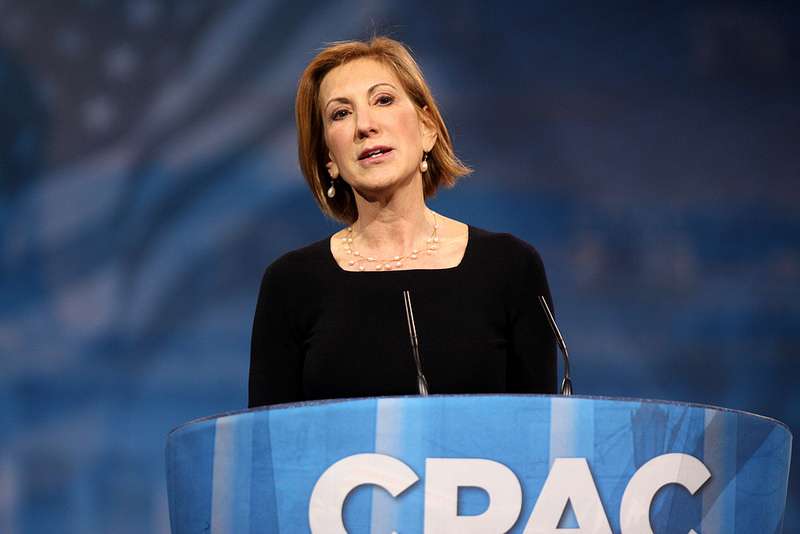 Former Hewlett Packard chief Carly Fiorina looks likely to formally launch a presidential bid on May 4, according to The Wall Street Journal, which reports that her announcement won't be the sort of highly visible event that marked the launch of the Rand Paul and Ted Cruz campaigns. Fiorina isn't confirming the report, but her staffers won't officially deny it either, Reuters reports.
I think it's hard to imagine a scenario in which Fiorina wins the GOP nomination, although given the size of the GOP field and the unpredictable dynamics it creates, it's at least possible that she'll outperform expectations. It helps, of course, that expectations right now are fairly low. Here's the Journal on her chances:
Mrs. Fiorina, who was the Republican nominee for Senate from California in 2010, has never held elected office. She faces a long road to contention—a national CNN poll released Monday found just 2% of Republicans named her as their first choice in the presidential election, less than 12 other candidates and likely candidates. A survey for New Hampshire cable network NH1 showed she has 2% of support there.

But Mrs. Fiorina, likely the lone woman in the 2016 Republican field, has a unique ability to attack Mrs. Clinton. Mrs. Fiorina has impressed activists at early-state candidate events by making the argument that by nominating a woman—namely her—the party would undercut the historic nature of Mrs. Clinton's campaign.
I strongly suspect that after she announces Fiorina will spend a lot of time contrasting her campaign with Hillary Clinton, in large part because that's already what she's spent the last few months doing.
When Fiorina appeared at this year's Conservative Political Action Conference in February, for example, her team highlighted the following bit from her prepared remarks:
Mrs. Clinton, name an accomplishment. And in the meantime, please explain why we should accept that the millions and millions of dollars that have flowed into the Clinton Global Initiative from foreign governments doesn't represent a conflict of interest.

She tweets about women's rights in this country and takes money from governments that deny women the most basic human rights. She tweets about equal pay for women but won't answer basic questions about her own offices' pay standards—and neither will our President. Hillary likes hashtags. But she doesn't know what leadership means.
Similarly, when Fiorina spoke at the Iowa Freedom Summit this January, her team sent out a copy of her speech with the following segment pulled out as notable:
We must understand our role in the world—which is to lead—and the nature of our allies and especially, our adversaries. Like Hillary Clinton, I too have travelled hundreds of thousands of miles around the globe. But unlike her, I have actually accomplished something. Mrs. Clinton, flying is an activity not an accomplishment. I have met Vladimir Putin and know that it will take more to halt his ambitions than a gimmicky red "Reset" button. Having done business in over 80 countries and having served as the Chairman of the External Advisory Board at the CIA, I know that China is a state-sponsor of cyberwarfare and has a strategy to steal our intellectual property.

I know Bibi Netanyahu and know that when he warns us, over and over and over again, that Iran is a danger to this nation as well as to his own, that we must listen. And unlike Hillary Clinton I know what difference it makes that our Ambassador to Libya and 3 other brave Americans were killed in a deliberate terrorist attack on the anniversary of 9-11 and that the response of our nation must be more forceful that the arrest of a single individual a year later.
In some sense this isn't particularly remarkable. Given Hillary Clinton's status as the all-but-certain Democratic nominee, you can of course expect to see a fair amount of Hillary-bashing from all the GOP candidates this year. The difference, I suspect, is that it will be the centerpiece of Fiorina's campaign.