'Killing Jews' Ads Are Protected Speech, Allowed on NYC Transit, Rules Court
Securing First Amendment rights is in the public interest, writes judge.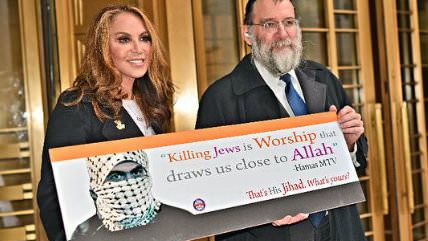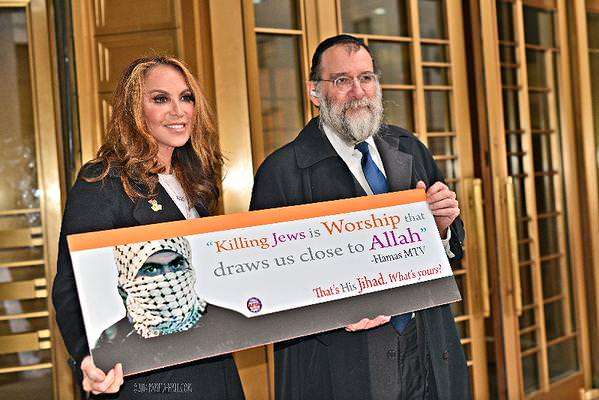 Controversial posters that state "Killing Jews is worship that draws us close to Allah" will be allowed to appear on public buses and trains in New York City. On Tuesday, U.S. District Judge John Koeltl ruled against the city's Metropolitan Transportation Authority (MTA), which had tried to reject the advertisements on the grounds that they might incite violence against Jews.
MTA staff "underestimate the tolerant quality of New Yorkers and overestimate the potential impact of these fleeting advertisements," wrote Judge Koeltl in his decision. "Moreover, there is no evidence that seeing one of these advertisements on the back of a bus would be sufficient to trigger a violent reaction. Therefore, these ads—offensive as they may be—are still entitled to First Amendment protection."
Pamela Geller, president of the American Freedom Defense Initiative (AFDI), called the ruling "a triumph for liberty and free speech." AFDI, a pro-Israel advocacy group, is behind both the MTA lawsuit and the posters, which feature a young Muslim man in a headscarf (ostensibly) expressing the murdering-Jews-pleases-Allah sentiment. "That's His Jihad," the ads read. "What's yours?"
AFDI claims its goal is to criticize Hamas and radical Islam. But in creating anti-Semitic, pro-violence ads that can easily be read as created by Muslims, it seems the group—which has routinely described Muslims as "savages"—may have another agenda, as well.
"Whatever you make of the group, AFDI has been remarkably successful in bringing its message to America," notes Michael E. Miller at The Washington Post. "AFDI has filed at least nine lawsuits across the country, often against cities or their contractors that refuse to display their messages," which also include a depiction of Muslim leaders meeting with Adolf Hitler.
While private transit companies could reject such messages, ad space on public transportation is subject to the First Amendment. Perhaps people should rethink their support for government-run transit—not free speech—if this situation bothers them. Another way around the issue without infringing on constitutional rights would be for MTA to ban all advertisements or at least all non-commercial advertisements (something it won't do because it needs that revenue). As long as buses and subways are government run, however, and as long as they allow political messaging of some sort, we simply can't have city officials judging which political messages deserve broadcast and which do not.
MTA at least knew that it couldn't make arbitrary, content-based distinctions on which political ads it would allow, which is why it tried to claim the AFDI ad goes beyond being offensive to actually inciting violence—an assertion Judge Koeltl wholly rejected. "The defendants contend that the advertisement could be read as urging a subset of Islamic extremists to follow Hamas's command, but if that group is as violent and radicalized as the defendants contend, presumably they would not need a bus advertisement to remind them of Hamas's interpretation of the Quran," he wrote.
As to MTA's claim that allowing the ad would run counter to public interest? "Securing First Amendment rights," wrote Koeltl (quoting an earlier case), "is in the public interest."