Hillary Clinton Hears Republicans Talking About Her, USS Theodore Roosevelt Sent to Yemen, NSA Wants You to Recycle: A.M. Links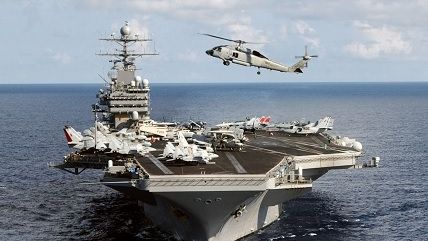 Defense Department

Campaigning in New Hampshire, Hillary Clinton says Republicans seem to only want to talk about her. She is the Democratic frontrunner and the only announced candidate for the party's nomination.

The U.S. has stationed the USS Theodore Roosevelt off the coast of Yemen in an effort to prevent Iranian arms shipments to rebels in the country.
Six Americans of Somali descent living in Minnesota have been charged with allegedly attempting to join the Islamic State in Iraq and Syria.
Prosecutors in the trial of Dzhokhar Tsarnaev, convicted for his role in the 2013 Boston Marathon bombing, are arguing for the death penalty.
Prosecutors in Sicily ordered the arrest of the captain and a crewmember of a migrant boat that capsized in the Mediterranean. Both were charged with illegal immigration, and the captain was also faces multiple counts of reckless homicide.
Just two months into his term, South Korea Prime Minister Lee Wan Koo has offered to resign over a bribery scandal involving a businessman who fingered Lee and others as corrupt before killing himself.
The National Security Agency wants you to recycle.
Follow Reason on Twitter, and like us on Facebook. You can also get the top stories mailed to you—sign up here.