Senate Foreign Relations Committee to Vote on Iran Legislation, Iraqi PM Asking for Billions from US to Fight ISIS, At Least Nine Killed in Assault on Somali Education Ministry: A.M. Links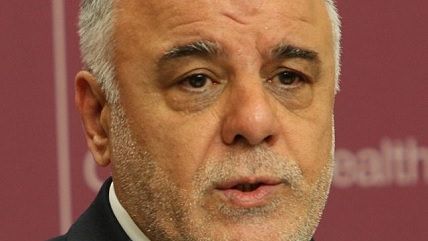 UK Foreign Office

The Senate Foreign Relations Committee is expected to vote this week, and possibly today, on legislation that would provide Congress 30 days after the U.S. and other powers reach an agreement with Iran over its nuclear program to review that agreement. The measure is supported by every Republican on the committee and a number of Democrats.

Iraqi Prime Minister Haider al-Abadi is visiting the U.S. to request assistance, including billions of dollars, to fight ISIS.
On the one year anniversary of the kidnapping by Boko Haram of more than 200 schoolgirls from Chibok, Nigerian President-elect Muhammadu Buhari admitted the government may not be able to rescue the girls, but that it would "do everything in its power to bring them home."
At least nine people were killed in an Al Shabaab assault on the education ministry in Mogadishu.
New York City's Mayor Bill de Blasio (D), who was Hillary Clinton's campaign manager for her 2000 Senate run in New York, says he won't endorse her until he sees an "actual vision on economic change."
Sen. Marco Rubio (R-Fla.) says there's "no doubt" he has more experience than Barack Obama did when he ran for president in 2008.
Follow Reason on Twitter, and like us on Facebook. You can also get the top stories mailed to you—sign up here.