A.M. Links: Rand Paul Attacks Media Bias, Obama Supports Ban on Conversion Therapy for Minors, Cop Who Shot Unarmed South Carolina Man Had Previous Excessive Force Complaint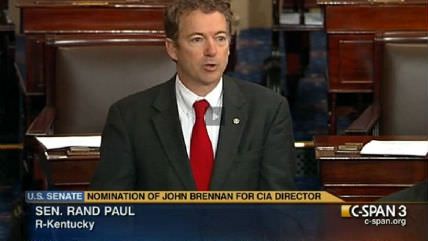 Credit: C-SPAN

GOP presidential candidate Rand Paul accused television anchor Savannah Guthrie of "editorializing" and asking biased questions during a contentious Today show interview.
"The Baltimore Police Department has used an invasive and controversial cellphone tracking device thousands of times in recent years while following instructions from the FBI to withhold information about it from prosecutors and judges, a detective revealed in court testimony Wednesday."
In a statement posted on the White House website, the Obama administration has endorsed a ban on "conversion therapy" for minors, a procedure which the statement defines as "any practices by mental health providers that seek to change an individual's sexual orientation or gender identity."
A high-ranking Secret Service supervisor has been put on administrative leave over "allegations of misconduct and potential criminal activity." According to a female employee, the supervisor sexually assaulted her.
A gunman opened fire inside a courtroom in Italy's Palace of Justice in Milan, killing at least two, including a bankruptcy court judge.
Follow us on Facebook and Twitter, and don't forget to sign up for Reason's daily updates for more content.