Hundreds of French Sex Workers March in Paris Against Laws Making Buying, Selling, and Looking Like You Might Sell Sex a Crime
In France, looking a little too slutty to a police officer is punishable by six months in prison and a fine of €3,750.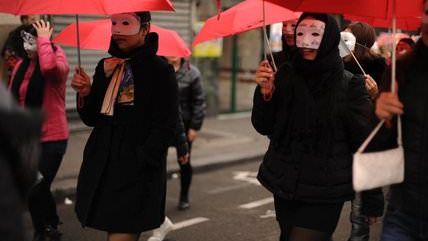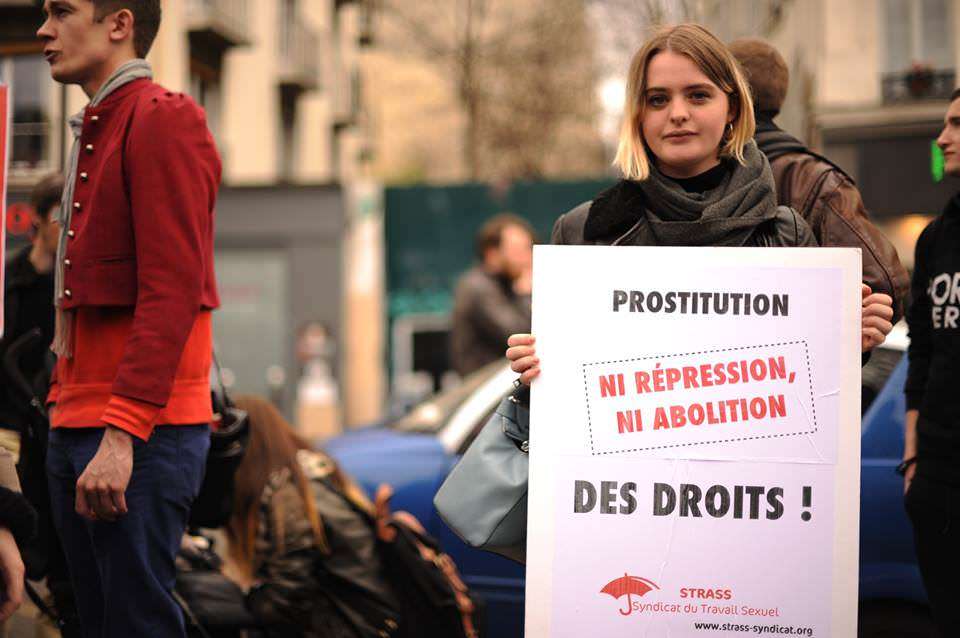 An anti-prostitution proposal being debated in France could criminalize "johns" for the first time, à la Sweden and Canada. Over the weekend, hundreds of French sex workers took to the streets of Paris in protest.
The march was organized by the French Union of Sex Workers, STRASS, in coordination with other groups. STRASS' position is that criminalization of customers will not "end demand" for prostitution but rather force sex workers further underground, driving them away from community support associations and health care facilities.
Prostitution is technically legal in France, but brothels and "active solicitation" (racolage) have long been banned. And in 2003, then-interior minister Nicolas Sarkozy ushered in a ban on racolage passif, or "passive solicitation," defined as being present in revealing clothes in an area known for prostitution. Now looking a little too slutty to a police officer is punishable by six months in prison and a fine of €3,750.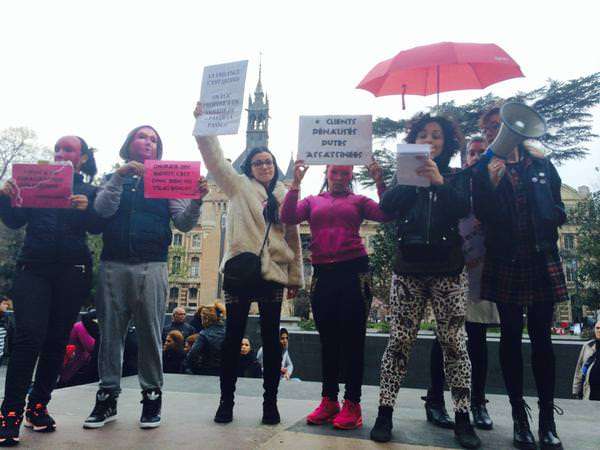 The proposal being debated in the French Senate this Monday and Tuesday has changed quite a bit since it first passed the country's National Assembly in late 2013. Originally, lawmakers wanted to decriminalize solicitation but assess a penalty of €1,500 on prostitution clients. The Senate's revamped measure would keep paying for sex legal and keep soliciting illegal (basically, it would uphold the status quo), though many politicians advocate adding back in the client-criminalization clause.
"What we are really afraid of is that France ends up with both clients and prostitutes being penalized which would be total prohibition," a spokeswoman from STRASS told The Local.
A large number of South American- and Asian-immigrant sex workers came out for this weekend's protest, complaining that laws against "passive prostitution" are used unevenly against immigrant women due to police stereotyping. There's a huge disparity between lawmakers' desired objective of fighting sex-trafficking networks and the reality of how criminalizing solicitation is applied in the field by police, the president of a French association of Chinese sex workers said. Transgender sex workers said they will be similarly singled out for harassment and arrest by police.
STRASS and other pro-sex work feminist groups allege that France's anti-solicitation policies are aimed more at driving out immigrants than protecting the sexually exploited. "We know criminalisation is for police to specifically arrest migrant sex workers," said STRASS secretary Morgane Merteuil. "Illegal migrants can be deported if arrested for sex work, so some legal migrants could also be arrested, and if they cannot prove that they're there legally this can be problem."