California Bill Makes Clear: You Can Photograph Cops
Police often wrongly claim that photography equals 'obstruction'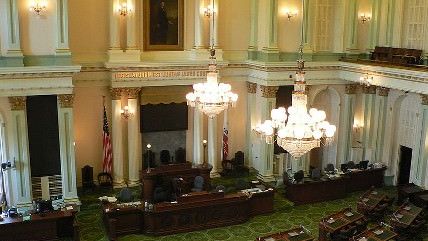 (David Monniaux/Wikimedia)
When I was a teen-age amateur photographer, I snapped a picture of a large group of Philadelphia police officers loitering in a rail terminal. Within moments, an officer came over and wanted me to open the back of the camera to expose the film. Decades later, film is obsolete—but the fundamental issue raised that day is not.
These days, anyone with a cellphone is a potential photographer or videographer. And police often arrest or confiscate the cameras from people who record their behavior. For instance, after Fullerton police officers in 2011 beat an unarmed homeless man, officers reportedly grabbed cameras from onlookers. Had it not been for a camera at a transit station, the public may never have learned what happened—and two officers may never have faced charges for Kelly Thomas' death.
"When in public spaces where you are lawfully present you have the right to photograph anything that is in plain view," explains the American Civil Liberties Union, which notes that photography is a crucial way for the public to oversee its government. Police in most cases need a warrant to search a camera or cellphones and may not destroy the images.
Yet police often claim such photography obstructs them as they perform their duties.
"Under existing law, every person who deters or prevents an executive officer from performing any of his or her duties, or knowingly resists the officer, (may be punished) by a fine or imprisonment," according to a bill introduced by California state Sen. Ricardo Lara, D-Bell Gardens. SB 411 would clarify that taking a photo of an officer in a public place is not "in and of itself a violation of the above-mentioned provision."
It makes clear what police officers already know: Taking a picture of them is not the equivalent of obstructing their duties. Sure, photographers can still be arrested if they genuinely obstruct an arrest. It's a simple and reasonable fix.
"It certainly clarifies so much about what's been going on across the country and even here with the Occupy protesters where reporters were being swept up along with protesters," said Jim Ewert, general counsel for the California Newspaper Publishers Association. Police clearly were arresting news media because they didn't like the images they were taking, he added.
In a statement, Lara said the bill was needed because recent events "have raised questions about when an individual can—and can't–record." That's putting it nicely. There really isn't a question about the legality of a person filming a police officer. The main question is why police don't always follow the law. "The First Amendment plainly allows the filming of public officers in public places as long as the filming is done peaceably and without actually interfering with the officers," said an official with the Conference of California Bar Associations, quoted in the senator's statement.
Despite its simplicity, the bill is up for a fight from the police unions, which are among the most muscular players in the Capitol. Because of protests about police killings in Ferguson, Missouri, and New York City, use-of-force issues are among the top matters this session. The issue has an increasingly bipartisan tilt.
On a related topic, Sens. Mark Leno, D-San Francisco, and Joel Anderson, R-El Cajon, have introduced a bill (SB 178) that would require law enforcement to get a warrant before grabbing electronic information from cellphones and other sources.
"Bills like SB 178, the California Electronic Privacy Act, have been introduced before, only to die on the vine in the face of opposition from law enforcement, which for some reason finds it wholly objectionable that they'd be forced to get a warrant before demanding personal information from companies like Google or Facebook," said Will Matthews of the ACLU of California.
We'll see where police lobbyists focus their muscle. They have an ally in Gov. Jerry Brown, who routinely is at odds with civil libertarians on privacy and open-government issues. But the times are changing.
At that train station years ago in Philly, I quickly did what the officer wanted. Progress has been slow but maybe soon it will be clear to everyone that I could have politely said no.