Venezuelan Government Collecting Signatures to Petition President Obama Over National Security Threat Declaration
Executive order declaring Venezuela an extraordinary threat could pave the way for wider sanctions.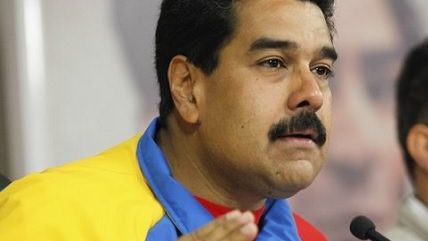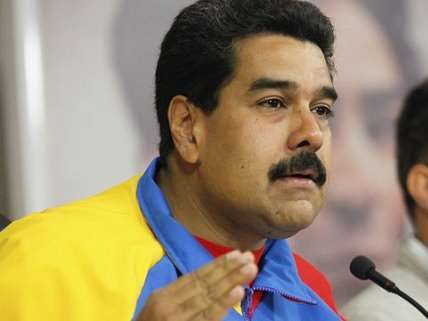 Earlier this month, President Obama declared Venezuela, a country transformed into a dictatorship, an "exrtraordinary threat" to the security of the United States, and imposed sanctions on high ranking government officials accused of human and civil rights abuses and corruption. U.S. sanctions lists have already included Venezeulan officials accused of being linked to the drug trade, but Obama's executive order paves the way to more sanctions.
Led by Nicolas Maduro, Hugo Chavez's second time a farce replacement, the Venezuelan government has continued to crack down on the opposition, arresting the mayor of Caracas in February. And the sanctions, however limited, plays into Maduro's rhetorical hand, all he has left for him to hold together the military that holds together the chavismo experiment.
But, second time a farce indeed. Reuters reports on the latest socialist project to unite the country politically:
Maduro has accused Washington of planning to invade Venezuela and public squares around the nation of 29 million people have become centres for a nationalist petition drive by the ruling Socialist Party.

The opposition has complained that Venezuelans, especially state employees, are being coerced to sign.

"According to our projections, we will collect 10 million signatures to say 'Obama: repeal the executive order,'" said Jorge Rodriguez, a senior Socialist Party official, confirming that three million people had signed in two weeks.

Maduro hopes to deliver the signatures to Obama in person at the Summit of the Americas, to be held in Panama next month.
The opposition has other concerns about the petition drive, too:
Signatories to the petition are asked to give their identification and telephone numbers.

Hardline opposition party Popular Will accused the Education Ministry of ordering teachers of schools in eastern Monagas state to pressure students to write protest letters to Obama.

"The order to write these letters is a clear attempt to indoctrinate children," it said in a statement.

Reuters could not independently verify the complaint, and there was no response from authorities.
The Venezuelan government couldn't set up a petition on the White House petition website?