Sexist Chanting at Party Leads to Punishment for Students Who Weren't Even There
When you've lost Jezebel...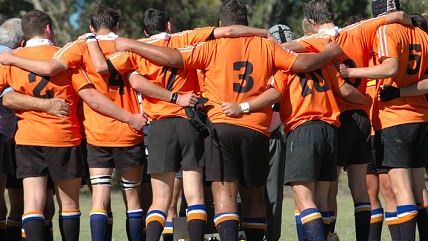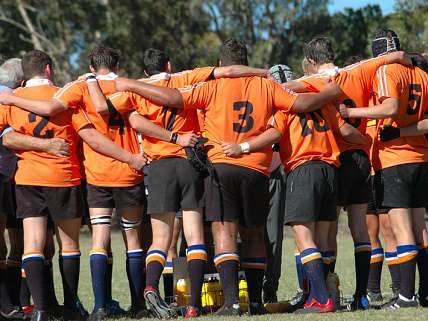 The University of Mary Washington permanently cancelled its student rugby team after evidence surfaced that team members had engaged in sexist chanting at an off-campus house party. All members of the team were also required to attend sexual assault training.
But while UMW's rugby team has 46 players, only 8 of them were even in attendance at the party—meaning that not only did a public university punish a few students for engaging in inappropriate (though constitutionally-protected) speech, it also punished other students who had nothing to do with said (again, constitutionally-protected!) speech.
The microaggression unfolded last November at a house party near the Fredericksburg, Virginia, campus, according to Jezebel's Erin Gloria Ryan. Some students, likely drunk, sang a demeaning song about raping corpses and "wiggling it" inside whores—inappropriate stuff, to be sure, though not really targeted at a specific entity in a threatening way. The chant apparently has its origins in rowdy "pub" songs. It's a curious tradition, though not one intended to inspire actual malice, it seems.
But someone at the party recorded the chant; eventually, UMW's Feminists United on Campus found out about it and made sure university administrators were informed. This led to an investigation, and eventually, the end of the rugby team. The location of the party was said to be a "rugby house"—even though only two members of the team actually lived there—and so the entire team had to pay the price. The university's formal condemnation reads:
At an off-campus party at the close of the fall 2014 semester, several members of theUMW men's rugby club engaged in a chant that contained sexually explicit, derogatory, and violent language. Some students have now been exposed to those offensive and lurid lyrics due to posting by others on social media.

No student on this campus should feel unsafe, ostracized, or threatened. Understanding that the offensive chant is antithetical to UMW values, and will not be tolerated, the University pursued action against the men's rugby club. At the beginning of the current semester, sanctions were imposed on the rugby club for willful violations of UMW's code of conduct for club sports.

After an appeal by the accused, the disciplinary process concluded on March 18 with this ruling: All rugby club activities have been suspended indefinitely. Further, each member of the men's rugby club is required to participate in education and training sessions regarding sexual assault and violence. UMW's Statement of Community Values informed the process and response to this situation.

As I stated yesterday, the University will not stand for such behavior. It not only violates our community values, it is not how members of this collegial campus live, and it is not reflective of the Mary Washington we all know and love.

University policies prohibit discrimination, harassment, threats, and derogatory statements of any form. We pride ourselves on being a diverse, accepting, caring community, and we must live up to that ideal.

I urge anyone on campus who feels unsafe, ostracized or threatened to immediately contact campus police or Dr. Leah Cox, Special Assistant to thePresident for Diversity and Inclusion. She may be reached at lcox@umw.edu or 540-654-2119.

Richard V. Hurley

President
I fail to see how the chanting could be deemed discriminatory, harassing, or threatening. And the university has no right to outlaw derogatory statements, if the First Amendment means anything on campus.
To her credit, Ryan readily acknowledged this in her piece for Jezebel, expressing concern that UMW was making an unwise decision:
But in avoiding one kind of legal trouble, University of Mary Washington administrators may have gotten themselves in another. Rugby chants about sexually violating dead prostitutes likely aren't what the Founding Fathers had in mind when they wrote the Constitution, but the way the University of Mary Washington punished its rugby program for speech at an off-campus, private residence is the sort of thing that raises flags for organizations like The Foundation for Individual Rights in Education.

Certainly, nobody has a constitutional right to play for a rugby club in college and to be exempt from standards of behavior, and schools should be able to require athletes to act respectfully. A rugby team getting disbanded isn't the same thing as an SAE member getting kicked out of school for yelling the N-word. All of the school's punishments have been on the team without singling out individuals involved. But when I filled Creeley in on what details of the incident I knew—that it wasn't an official team event, that only eight members of the team were present, and that the audio couldn't establish who was and wasn't singing—he responded that he found the case "troubling."
The comparison to the University of Oklahoma's treatment of Sigma Alpha Epsilon is apt. SAE's chant, at least, was obviously and specifically offensive, and indicative of a deep and abiding undercurrent of racism—and, possibly, illegal racial discrimination. The expression of such speech, however, is clearly constitutional.
UMW students may not have a constitutional right to be on a rugby team, but it's hard to conclude that their speech was anywhere near as offensive as SAE's. It's also hard to show that the entire rugby team was complicit in the speech to the same extent as SAE.
Ryan, by the way, is no friend to Reason, but I must applaud her for writing such a balanced and nuanced article. When Jezebel takes the side of the alleged sexists (or at least gives them a fair appraisal), we must recognize that either campus hyper-offendedness has truly gone off the deep end, or the end-times are upon us.