Does Popular Herbicide Glyphosate Cause Cancer? Probably Not
Anti-GMO types are ecstatic over regulatory ruling that the herbicide is a probable human carcinogen.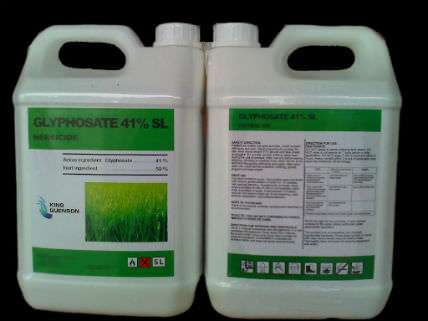 The International Agency for Research on Cancer (a part of the World Health Organization) gather panels of experts to consider data concerning the possible carcinogenicity of various substances from time to time. Earlier this week, one such IARC committee issued a ruling that the popular glyphosate (a.k.a. Roundup) herbicide is a "probable human carcinogen." That makes it a IARC Group 2B substance, that is to say, that the agency thinks that glyphosate is as carcinogenic as coffee and pickled vegetables. This IARC finding was published in the journal The Lancet Oncology along with similar rulings on four other pesticides.
The IARC committee apparently considered four epidemiological studies that reported some link between exposure to glyphosate and various cancers. Interestingly, the IARC apparently ignored a much more comprehensive review of the toxicological literature with respect of glyphosate published in 2012. That more extensive review included all four of the studies mentioned by the IARC panel in their Lancet Oncology article. All of those studies are case-control studies, the lowest and least accurate form of epidemiological augury. The more extensive 2012 review reported:
Our review of the currently available epidemiologic literature on glyphosate and cancer found no evidence of a consistent pattern of positive associations that would be indicative of a causal relationship between any site-specific cancer and exposure to glyphosate. The prospective AHS has evaluated associations between glyphosate and all cancer sites (De Roos et al., 2005), with no statistically significant results. Other studies, including cohort and case-control studies of specific cancers have similarly reported results generally consistent with the null hypothesis.
An article in Critical Reviews in Toxicology just published that looked at 15 studies in which rodents were dosed with high levels of glyphosate reports:
There was no evidence of a carcinogenic effect related to glyphosate treatment. The lack of a plausible mechanism, along with published epidemiology studies, which fail to demonstrate clear, statistically significant, unbiased and non-confounded associations between glyphosate and cancer of any single etiology, and a compelling weight of evidence, support the conclusion that glyphosate does not present concern with respect to carcinogenic potential in humans.
The folks over at the American Council on Science and Health have also weighed in against the IARC ruling. ACSH quotes a recent analysis by the German Risk Agency that …
…concluded in a reevaluation in January 2015 that "the available data do not show carcinogenic or mutagenic properties of glyphosate nor that glyphosate is toxic to fertility, reproduction or embryonal/fetal development in laboratory animals," and "in epidemiological studies in humans, there was no evidence of carcinogenicity and there were no effects on fertility, reproduction and development of neurotoxicity that might be attributed to glyphosate." …

ACSH's Dr. Gil Ross added this comment: "We here at ACSH have been keen observers of the working of IARC over the years, and while this ruling is disappointing for anyone devoted to sound science as the basis of regulatory policy, no one should be surprised. This agency of the WHO/UN is among the worst of the hyper-regulators, and has developed a well-deserved reputation for breezing past or simply ignoring the latest (or even the consensus) science in the service of their precautionary principle-based agenda."
This scientifically misbegotten ruling will spur even greater efforts from anti-biotech activists since glyphosate is used in conjunction with biotech crops designed to resist it.
Disclosure: About a year ago I bought 100 shares of Monsanto with my own money for $109 per share. They were going yesterday at $113.50 per share.