Ted Cruz Running for President, DOD 'Looking Into' ISIS Hit List, Flashing Blue Light in Russia: A.M. Links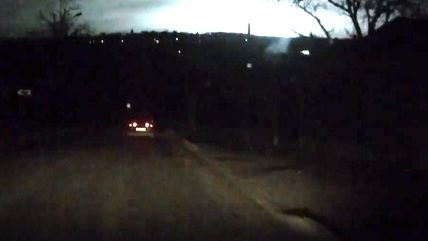 YouTube

Sen. Ted Cruz (R-Tex.) is announcing his candidacy for president at Liberty University this morning.

The Department of Defense is "looking into" a post made online by a group calling itself the "Islamic State Hacking Division" purporting to be a list of U.S. military service members selected for targeting by ISIS.
Sen. John McCain (R-Ariz.) characterized President Obama's comments about Benjamin Netanyahu's commitment to a two state solution—the prime minister promised no Palestinian state under his watch shortly before last week's elections and then walked the statement back after being re-elected—as "temper tantrum" the president ought to get over.
President Obama's bracket gets busted and a player from NC State, which defeated #1 Villanova, ripped the president for it.
The United Nations warns that Yemen, whose capital has been taken over by rebel forces that have expanded their control across the country, is at the "edge of civil war."
Singapore's first prime minister, Lee Kuan Yew, died of pneumonia this weekend, aged 91.
A mysterious blue flash of light was reported and caught on video near Stavropol, a city in southern Russia.
Follow Reason on Twitter, and like us on Facebook. You can also get the top stories mailed to you—sign up here.