A.M. Links: Voters Want 'Fresh Face' in 2016 Presidential Election, Virginia Investigates Bloody Arrest of Student by Alcoholic Beverage Control Agents, More Snow for Northeast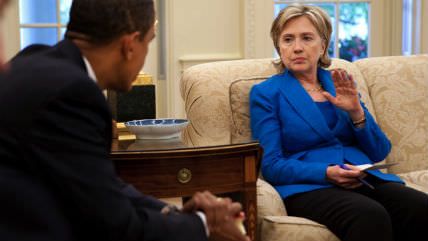 Credit: White House / Flickr.com

According to a new poll from Rasmussen, "54% of Likely U.S. Voters believe Democrats should look for a fresh face to run for president in 2016." Hillary Clinton could not be reached for comment.
Virginia Gov. Terry McAuliffe has ordered the Virginia State Police to investigate the use of force by state Alcoholic Beverage Control agents against a black University of Virginia student. That incident left the 20-year-old honor student bloodied and in need of stitches.
The Federal Aviation Administration has given Amazon an "Experimental Airworthiness Certificate" to test drone deliveries.
Today is the first day of spring. Snow is expected in the Northeast and Mid-Atlantic.
Follow us on Facebook and Twitter, and don't forget to sign up for Reason's daily updates for more content.