Breaking: U. of Oklahoma Expels 2 Students Over Racist SAE Chant
Brazen, impulsive, unconstitutional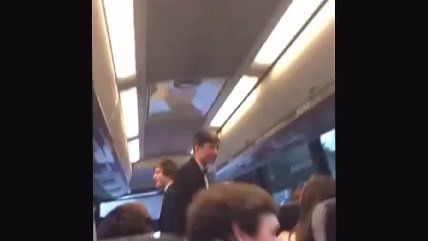 The University of Oklahoma has expelled two Sigma Alpha Epsilon students who were involved in the racist chanting caught on video recently.
OU President David Boren announced the expulsions on Twitter:

Gawker obtained a copy of the expulsion letters, which state that the students have been expelled "because of your leadership in a racist and exclusionary chant which has created a hostile educational environment for others."
The identities of the two students are not yet known.
This is a brazen, impulsive move from Boren. As I wrote not half an hour ago, the students' offensive speech is certainly constitutionally protected.
The Foundation for Individual Rights in Education's Peter Bonilla told Reason that his organization still believes "this is a matter of protected speech under the First Amendment, no matter how repugnant it might be." The speed with which the students were expelled is also a potential issue, he said.
"In addition to the free speech issues we raised, the expulsion also seems to present pretty serious concerns for due process and makes us wonder if there really was any at all. We're disappointed, to say the very least."
Stay tuned.