A.M. Links: Clinton Scandals Grow, Fatal Police Shooting Sparks Protests in Wisconsin, Chad and Niger Fight Boko Haram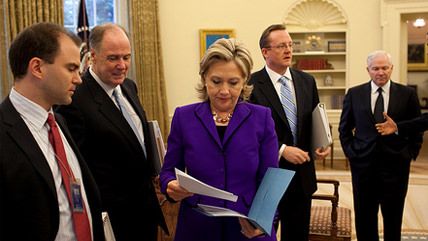 Credit: White House / Flickr.com

The Bill, Hillary & Chelsea Clinton Foundation is under fire for accepting millions of dollars in donations from countries with abysmal records on sex discrimination and women's rights, including Saudi Arabia, the United Arab Emirates, Kuwait, Qatar, and Algeria.
Thousands crowded Selma, Alabama's Edmund Pettus Bridge yesterday to mark the 50th anniversary of the famous "Bloody Sunday" civil rights march in which police attacked peaceful activists.
According to President Barack Obama, he first learned about the scandal surrounding Hillary Clinton's use of private emails for government business "the same time everybody else learned it through news reports."
Protesters have taken to the streets in Madison, Wisconsin, after a white police officer shot and killed an unarmed black 19 year old.
The University of Oklahoma has shut down a fraternity after a video surfaced showing fraternity members participating in a racist chant.
Military forces from Chad and Niger have opened a new front in Nigeria against the Islamic extremist group Boko Haram.
Follow us on Facebook and Twitter, and don't forget to sign up for Reason's daily updates for more content.