What If Someone Crossed the Razor-Blades-in-Halloween-Candy Rumor with the Injecting-Babies-with-AIDS Rumor?
Decoding a Vietnamese urban legend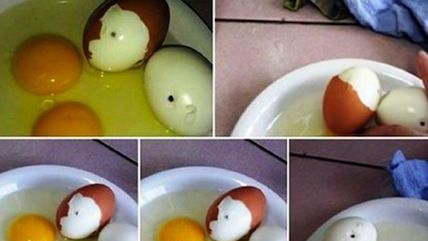 Today's online urban legend comes from Southeast Asia, where VietNamNet Bridge describes "a rumour surfacing in the social media that Chinese chicken eggs sold in Vietnam have been injected with blood contaminated with Human Immuno-deficiency Virus":
An Ninh Thu Do

Social media photos (see picture) show boiled eggs peeled to reveal a tiny dark hole looking like an injection shot.

The spot cannot be confused with red fertility spots that appear in the yokes of fertilised eggs.

An Ninh Thu Do newspaper (Capital Security) spoke to Nguyen Van Trong, vice director of the agriculture ministry's Department of Animal Husbandry.

He said that it was easy to inject substances into an egg, but he could not see any reason for anyone to do so….

The newspaper also quoted Nguyen Duy Thinh, an expert formerly at the Ha Noi University of Technology's Institute of Biotechnology and Food Technology.

Thinh said chicken eggs could not be contaminated with HIV because the virus could not exist outside the human body.
As always in situations like these, the interesting questions to ask after Is the story true? is If it isn't true, why did it catch on? What anxieties is it expressing? I suspect that the tale of the infected Chinese eggs is related to the long history of Sino-Vietnamese tensions. (In the climate of the countries' latest conflict, suspicions in Vietnam have run so high that the Da Nang police recently found themselves asking if some pigeons were Chinese spies.) But I'm not exactly an expert on contemporary Indochinese culture, and I'd love to hear other theories.
[Via Legends & Rumors.]