A.M. Links: Uptick in Entry of Syrian Refugees to U.S. Expected, Fighting in Ukraine Continues, Biden's Being Biden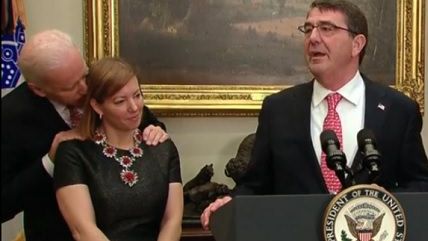 screencap

The U.S. expects to quadruple, to up to 2,000, the number of refugees from Syria who will be admitted into the country this fiscal year. The State Department says national security remains a top priority but some Republicans insist they're worried about potential radicalization. Meanwhile ISIS militants reportedly burned 45 people to death in a town in western Iraq.

Fighting in eastern Ukraine continues despite a European-brokered ceasefire that was supposed to go into effect Sunday.
The last day of Carnival in Haiti was cancelled after 16 people died in a float accident.
Was Joe Biden whispering sweet nothings into the new defense secretary's wife's ear?
AT&T is offering a more privacy-oriented Internet service for just $29 extra a month.
Analysts project Apple could sell up to 20 million watches this year.
Follow Reason on Twitter, and like us on Facebook. You can also get the top stories mailed to you—sign up here.