Fifty Shades of Grey and Kingsman: The Secret Service
Dakota Johnson in (very light) bondage, Colin Firth on the neo-Bond spy beat.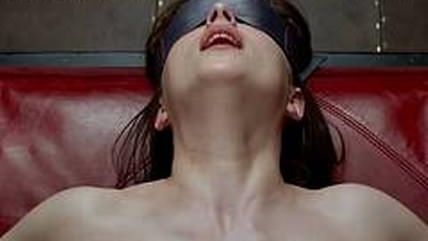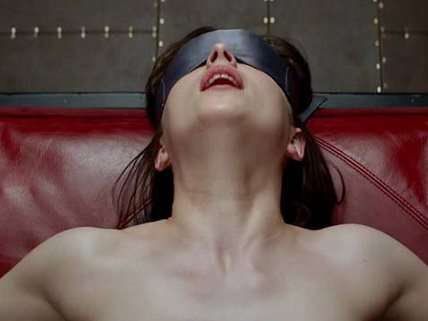 So E.L. James' hot-trash novel makes it to the screen, and the surprise is… well, it's a chick flick, that's no surprise. But the film version of Fifty Shades of Grey is also sleekly made and sometimes quite funny. And especially in two aerial sequences—a helicopter flight over a glittering city and a splendid glider ride, swooping through the clouds—it's also romantic in an unusually groan-free way. The characters are still ciphers, and there are still too many of them, and we weary of their company rather long before we're able to take leave of it. But for a pre-sold exploitation project, the picture is an honorable effort, and better than it needed to be.
It was a wise decision to turn this material over to two women—director Sam Taylor-Johnson (Nowhere Boy) and writer Kelly Marcel (Saving Mr. Banks). James' novel is baldly pornographic—an exercise in bondage tourism for people who'd never dream of logging onto Kink.com. But Marcel (along with Patrick Marber, who did some rewriting) warms up the stick-figure characters; and Taylor-Johnson, working with cinematographer Seamus McGarvey (The Avengers), provides some visual compositions of a rich, creamy elegance.
James' story is hopeless twaddle, of course, uninformed by any sort of character motivation. Once again we struggle to figure out why hunky Seattle billionaire Christian Grey (Irish actor Jamie Dornan) would become obsessed with luring a college student and hardware-store clerk named Anastasia (Dakota Johnson) into his "Red Room of Pain," a home temple consecrated to the joys of whips and manacles and set-decoration. And why would the virginal Anastasia be drawn to such rough stuff? He just does and she just is, and that's that.
Grey is a character defined almost entirely by his accessories: his gray suits and ties, his Beemers and Macs and marble-floored penthouse. His business empire is a vague enterprise, and a fetish for sexual domination appears to be his only outside pursuit. He meets Anastasia when she comes to his office for the purpose of a profile for her school paper (a scene that riffs wittily on the dynamics of the celebrity interview). Soon he's turning up everywhere she goes—stalking her, essentially, although we're not supposed to think of it that way. Anastasia is put off at first, but then bedazzled, and soon he's proffering her a contract—an actual legal document—outlining his requirements for submissive sex partners. ("What's a butt plug?" she asks.) Then it's off to the Red Room.
None of the sex scenes in this movie seem to me to strain the bounds of its R rating. There's no full-frontal nudity—Johnson's body is generously displayed (there's even a pubic tease or two), but Dornan's nudity is strictly of the bare-chest-and-buttocks variety. And the big-deal BDSM moves consist mainly of bound wrists and blindfolds, with some brief and carefully edited spanking and light crop-thwacking. There's also a quick thigh-nuzzle and quite a bit of tasteful loin-grinding, and at one point we watch Christian kissing his way down Anastasia's abdomen en route to a place at which we never see him actually arrive. It's all worlds away from the darker rooms of bondage classicism: the ritual torments of The Story of O and the troubling compulsions of Nine and a Half Weeks. Instead, we get something entirely conventional: good girl meets bad boy, he lost in shadows ("I don't do romance") and she ("What are you afraid of?") sweetly determined to lead him into the light.
The actors do more with these vacant characters than you might expect. Dornan, a onetime fashion model best-known for his role in ABC's Once Upon a Time, is given virtually nothing to play (the blank-slate Christian Grey may be sketched in more fully in the film's two sequels, comin' up). But he has a smile of twinkly amusement (it recalls the late Christopher Reeve), and he manages to seem unembarrassed even by a line like "I'm fifty shades of fucked up."
But Johnson is the true star of this show. She's pretty in a real-world way, and her down-to-earth looks help ground the film's porny premise as she navigates her character's emotional journey—from awkward innocence to ultimate awareness of her power position in this relationship—with subtle command. The story may be all kinds of fake—especially in its aspiration to edginess—but she's the real deal.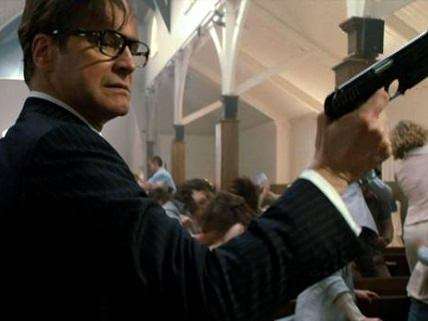 Kingsman: The Secret Service
The early James Bond movies of the 1960s spawned a welter of knockoff spoofs featuring half-jokey spies like Derek Flint and Matt Helm. The Austin Powers films of 30 years later went for pure parody. Now, a little late, perhaps, comes Kingsman: The Secret Service, which once again rakes over the coals of the licensed-to-kill genre. The director, action maniac Matthew Vaughn, demonstrated an alarming facility for splattery mayhem in his Kick-Ass films, and there's lots more of that here. But the movie's tone is wobbly: it's a spy adventure and a meta-comedy and a man-and-boy bonding story, too, and it doesn't hold together. With Colin Firth in control at the picture's beginning, it's a lot of fun. But the movie starts coming unglued about halfway through its excessive two-hour-plus runtime, and by the end you're likely to feel exhausted, and a little grumpy.
The story is a substantially revamped take on a comic-book series written by Mark Millar, who also collaborated with Vaughn on the Kick-Ass films. The setup is pretty funny. In 19th Century London, we're told, a Savile Row tailor founded an independent spy agency called the Kingsmen, a group devoted to fine suits, well-made martinis, and saving the world from various villains. Today, the group's headquarters is still located in the Kingsman bespoke-clothing shop, where Fitting Room 2 is filled with explosive spy gadgetry (dagger-toe shoes, lethal umbrellas), and the group's current leader, a man known only as Arthur (Michael Caine), gathers his suavely attired agents for regular meetings to discuss their latest international missions.
Firth's Harry Hart—code name Galahad—is a top operative engaged in the pursuit of a billionaire super-villain named Valentine (Samuel L. Jackson). Valentine has been kidnapping VIPs from around the world—princesses, prime ministers, even Iggy Azalea (who doesn't appear here). He has also embarked on a plot to solve the problem of global warming by radically culling the Earth's population. His instrument for doing this a SIM-card app that can be remotely triggered to incite murderous rage in its owners—of which he has assured there are millions worldwide.
No one does droll whimsy better than Colin Firth, and he's a pleasure to watch as he beats down a pub full of thugs without wrinkling a lapel and, on a visit to America, carves up a church full of hateful racists. But the story is unfortunately dominated by Harry's relationship with his delinquent nephew Gary (Taron Egerton), whom he hopes to redeem by recruiting the lad into the Kingsmen. So Gary has to undergo a lot of training at the group's country-estate spy school. And as cool as some of this is—especially an underwater sequence in a flooded dormitory, and a sky-jumping exercise in which one of the students has been issued a non-operative parachute—it all goes on too long. As does the often brutal action: after a certain number of eyeball-knifings and neck-hatchetings, you begin to tune out. Vaughn is an expert at choreographing this stuff, but he's so invested in its execution that he can't seem to let it go, and it runs on and on.
Egerton makes a solid debut here, and there's a sort of neo-Bond girl called Gazelle (Sofia Boutella) who's really terrific: she glides around on knife-edged prosthetic legs that can slice a man from stem to stern with one well-placed kick. It's too bad that Jackson is all wrong for super-villainy: he lacks the requisite purring malice, and the lisp he effects throughout grows old fast. After Firth drops out of the story midway throuugh, Valentine is the only really colorful character left, and he's not enough. Which could also be said of the movie itself.