Oil to Surge to $200 Per Barrel: Or Maybe Collapse to $20 Per Barrel
Whatever.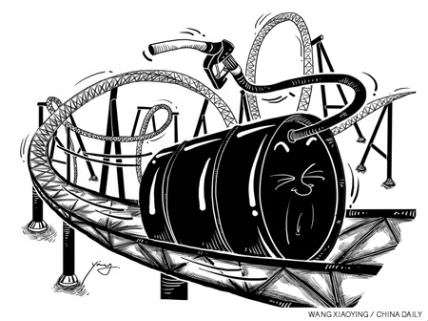 A week ago, the general secretary of the Organization of Petroleum Exporting Countries (OPEC) Abdulla al-Badri declared that oil prices have bottomed out and suggested that falling investments in future production will lead to $200 per barrel oil. As prices fell to $50 per barrel, lots of oil rigs went idle which indicates that future production will likely slow. On the other hand, it is relatively easy to crank up fracking in the U.S. if prices start rising.
Today, Bloomberg News is reporting an analysis by Citigroup that suggests that oil prices could collapse to $20 per barrel and signal the "end of OPEC." From Bloomberg:
Despite global declines in spending that have driven up oil prices in recent weeks, oil production in the U.S. is still rising, wrote Edward Morse, Citigroup's global head of commodity research. Brazil and Russia are pumping oil at record levels, and Saudi Arabia, Iraq and Iran have been fighting to maintain their market share by cutting prices to Asia. The market is oversupplied, and storage tanks are topping out.

A pullback in production isn't likely until the third quarter, Morse said. In the meantime, West Texas Intermediate Crude, which currently trades at around $52 a barrel, could fall to the $20 range "for a while," according to the report. The U.S. shale-oil revolution has broken OPEC's ability to manipulate prices and maximize profits for oil-producing countries.

"It looks exceedingly unlikely for OPEC to return to its old way of doing business," Morse wrote. "While many analysts have seen in past market crises 'the end of OPEC,' this time around might well be different," Morse said.
When it comes to predicting the future price of oil it is always well to remember U.S. Foreign Service Officer James Akins trenchant observation:
"Oil experts, economists, and government officials who have attempted in recent years to predict the future demand and prices of oil have had only marginally better success than those who foretell the advent of earthquakes or the second coming of the Messiah."
Akins was speaking in 1973.
In any case, one might well dispute that petroleum prognosticators do have "marginally better success" than other practitioners of haruspicy.