Jordan Vows "Relentless" War Against ISIS After Execution of Air Force Pilot—Time for the U.S. to Decide Its Role for Itself
Jordan's king vows revenge for the execution of an air force pilot by ISIS. The US has to decide its role in the conflict before it's decided for the U.S.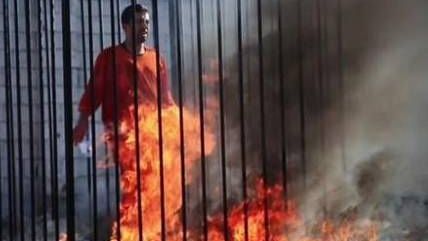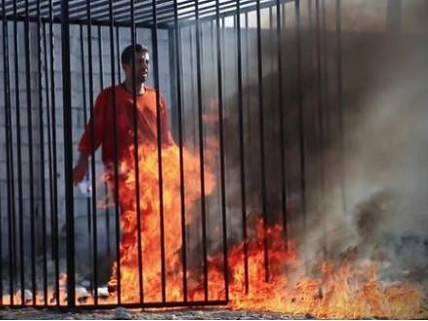 After the Islamic State in Iraq and Syria (ISIS) released a video showing a Jordanian Air Force pilot the terror group had captured being burned alive, the Jordan, which had been attempting to negotiate for the pilot's released, executed two Al-Qaeda terrorists in their custody. The Jordanian government, part of the U.S.-led anti-ISIS coalition, promised a "relentless" war.
Haaretz reports:
"We are waging this war to protect our faith, our values and human principles and our war for their sake will be relentless and will hit them in their own ground," state television said.

Jordan will intensify its efforts with an international coalition fighting Islamic State, a government spokesman said earlier on Wednesday.

"We are talking about a collaborative effort between coalition members to intensify efforts to stop extremism and terrorism to undermine, degrade and eventually finish Daesh," Mohammad al-Momani said

Regional and western leaders prefer to use the name Daesh, an Arabic acronym for ISIS, because the terror group says it hates it.
Jordan's king, Abdullah II, met with U.S. lawmakers behind closed doors today. Rep. Duncan Hunter (R-Ca.) described a visibly angry king. Though Duncan's observation that "the only problem we're going to have is running out of fuel and bullets" was meant as a throw-away comment, it suggests Jordan's anger may not fit its resources.
While the U.S. has not taken a public role in leading the anti-ISIS coalition, the campaign would be impossible without access to U.S. military resources. President Obama says he wants authorization from Congress for ongoing operations against ISIS but says he doesn't need them. Former Secretary of Defense Robert Gates recently said he believed destroying ISIS was an unrealistic goal and that even rolling it back would require boots on the ground—an idea Vice President Joe Biden may have endorsed earlier.
"As we grieve together," the president said in a statement after the Jordanian pilot's execution yesterday, "we must stand united, respectful of his sacrifice to defeat this scourge." Congress ought to act on Obama's request for authorization—either granting it or specifically disallowing anti-ISIS operations. Otherwise the U.S. could see itself slide into a war with ISIS without anyone having made a specific decision out of some misplaced sense of unity or duty.