Fox Posts Full Video of ISIS Burning Jordanian Pilot, Michigan Recognizes Some Gay Marriages, All Vaccines All the Time: P.M. Links
FCC: Brace yourself, Net Neutrality is coming.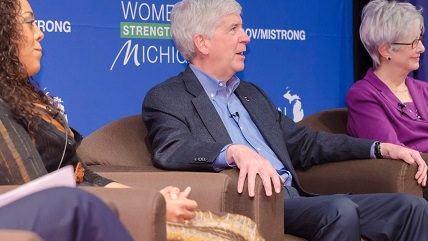 Rick Snyder

Fox News showed the full video of Muath al-Kasaesbeh burning to death on its website. The Jordanian pilot was brutally murdered by ISIS.

The horror of ISIS burning a man alive has at least united much of the Arab world against the terrorist group.
FCC: Brace yourself, Net Neutrality is coming.
Michigan Gov. Rick Snyder said the state will recognize 300 same-sex marriages that were performed last year after a district court struck down Michigan's gay marriage ban but before another court issued a stay of that ruling.
Everybody is still buzzing about mandatory vaccinations. Here's Reason's Matt Welch on the subject.
And here's The New Republic's Elizabeth Stoker Bruenig on libertarians horrifying parenting views: "To avoid a hellish death spiral of infectious disease and neglect, we would all do well to reject Paul and his cohort on the subject of child rearing."
The trailer for Magic Mike XXL was released today. Trigger warning: Body insecurity.