Obama Lets His Freaky Big Government Flag Fly, Chris Christie Dips Toe Into Vaccination Debate, FCC Ready to Muscle in on the Internet: P.M. Links
Four trillion bucks doesn't go as far as it used to.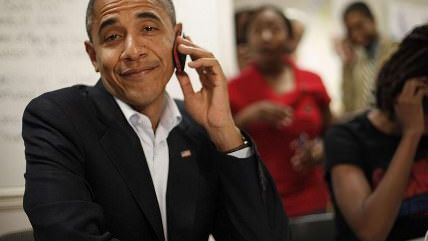 White House

President Obama bets you're tired of all that nasty austerity, even if you're not sure what the hell he's talking about. Anyway, his new proposed $4 trillion budget includes lots and lots of new spending. And, oh yes, big tax hikes, with a special eye on companies doing business overseas.

He wants Greece's government to spend more money too. Can we just get German taxpayers to pick up the tab for everything?
New Jersey Gov. Chris Christie waded into the renewed debate over vaccination by saying public health interests should be balanced against parental choice—and then backpedaling.
Rep. Lisa Boscola (D-Northampton/Lehigh), a Pennsylvania state lawmaker, joined several Super Bowl betting pools and challenged state police to bust her. She acted after cops ignored the state's legalization of such fun in favor of enforcing their interpretation of federal law.
Death sentences on 183 Muslim Brotherhood supporters won thumbs-up from an Egyptian court. They were convicted for a lethal attack on a police station in 2013.
Alaskans are a tad pissed over the White House's call for a ban on oil drilling in coastal waters.
The head of the FCC looks poised to endorse utility-style regulation of Internet companies, potentially giving the government far greater control over what has been a free-wheeling area of life. It was nice while it lasted.
Follow Reason on Twitter, and like us on Facebook. You can also get the top stories mailed to you—sign up here.