As U.S. Officials Fret Over Encryption, German Firms Market Secure Calls
How secure is an open question.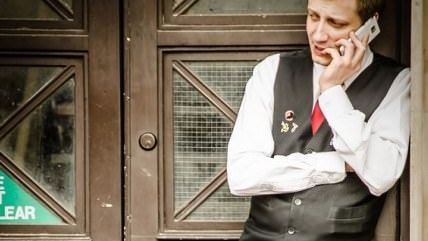 FBI Director James Comey complains about the availability of encrypted products from Apple and Google. Justice Department officials fret that protecting customers' privacy creates a "zone of lawlessness" by keeping government snoops out. But German companies are actually competing to make end-to-end secured connections a regular offering. At least for their business customers, Vodafone and Deutsche Telekom now offer encrypted communications. How encrypted is an open question.
According to the Wall Street Journal:
Vodafone said Wednesday it had begun offering its corporate customers in Germany an encryption application through which they can make secure phone calls.

Vodafone developed the application with German security firm Secusmart, recently acquired by Blackberry.

While Vodafone announced it was working on the app at last year's CeBIT fair, on Wednesday it formally launched it for the German corporate market.

Wednesday's launch catches up with Deutsche Telekom, the country's largest telecommunications company, which launched a similar app last summer. Both companies cite high demand from corporate customers for secure mobile voice communication.
Note that neither offering is available yet to private customers—only businesses.
Germany tends to be very sensitive to privacy after the country's experience with not one, but two totalitarian regimes. That said, Germany's BND has worked with the NSA in the past. Whether that means the local snoops have connived themselves a backdoor of the sort that American officials very openly demand is unknown, but it wouldn't be surprising. When Deutsche Telekom announced its intentions to target an international market seeking refuge from the NSA, Christopher Soghoian of the ACLU cautioned, "I would think that Telekom gives the same level of help to the German government as AT&T does to the US government. Like all telecoms around the world, when a government says jump, they jump."
If you're looking to make encrypted phone calls as an individual, and not using a product offered by a company with chummy ties to security services, you do have options. Philip Zimmermann of PGP fame is president and co-founder of Silent Circle, a company that offers just such services. And PC Magazine gives an "excellent" rating to RedPhone, which offers encrypted phone calls and texting for free.