Anti-Vaping Researchers Called Out for Misleading Cancer Exaggerations by New York Times Columnist
By opposing e-cigarettes, anti-tobacco activists are very likely killing people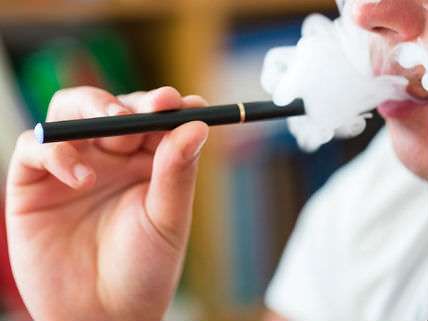 Last week, my colleague Jacob Sullum questioned a study published in the New England Journal of Medicine purporting to show that vaping is more dangerous than smoking actual cigarettes. The reason? Because vaping at high voltage produces high levels of the carcinogen formaldehyde. The New England Journal of Medicine even tweeted: "Chemical analysis of e-cigs' vapor show high levels of formaldehyde," it read. "Authors project higher cancer risk than smoking."
But as Sullum pointed out, most people avoid vaping at high voltage because it produces very unpleasant flavors. Naturally, an uncritical media ran with scary headlines like "Study: E-cigarettes could be more deadly than regular cigarettes." Sullum thoroughly debunks those claims.
Today, New York Times columnist Joe Nocera takes on that study and more or less forces one of the researchers to back down on the claims. From the column:
When I spoke to David Peyton, one of the study's authors, he insisted that the study had been mischaracterized. All it was meant to do, he said, was compare the levels of formaldehyde in e-cigarettes versus cigarettes. "It is exceedingly frustrating to me that we are being associated with saying that e-cigarettes are more dangerous than cigarettes," he added. "That is a fact not in evidence." Well, maybe.

When I read him the tweet from the New England Journal of Medicine — "Authors project higher cancer risk than smoking" — he sounded horrified. "I didn't see the tweet," he said. "I regret that. That is not my opinion."

"There is a lot we don't yet know about e-cigarettes," said Peyton toward the end of our conversation. He is right about that; e-cigarettes are still so new that they need to be studied carefully. And he and his co-authors are planning further studies. Perhaps the next time, they will produce something that doesn't serve mainly as a scare tactic to keep smokers away from e-cigarettes.
As I noted earlier this month, a December 2014 editorial in the journal BMC Medicine flatly stated:
Although there is no doubt that smokers switching to electronic cigarettes (EC) substantially reduce the risk to their health, some tobacco control activists and health organisations discourage smokers from using EC and lobby policy makers to reduce EC use by draconian regulation.

The hostility to EC may be related to a moral belief that nicotine use should be eradicated rather than allowed to morph into a relatively harmless activity. If EC are allowed to compete with cigarettes and develop further, smoking is likely to all but disappear. Discouraging smokers from making the switch and reducing EC competitiveness with cigarettes by unwarranted regulation will delay this opportunity or squander it altogether.

In fact, there is now sufficient evidence available for health professionals to recommend to smokers who cannot stop smoking with existing treatments or do not want to do so, to try several types of e-cigarettes to see if they can find one meeting their needs.
By opposing e-cigarettes, anti-tobacco activists are very likely killing the people they claim they want to help