Kurt Loder: Mortdecai and Black Sea
Johnny Depp's sad career slide continues, Jude Law goes for the gold.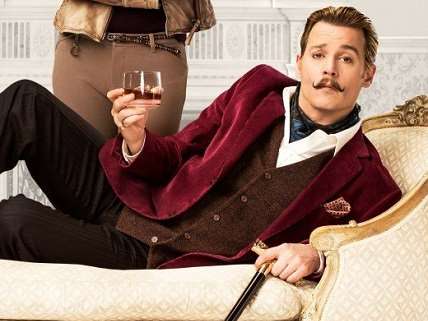 Rather disappointingly, Mortdecai isn't the flaming catastrophe that its dreadful trailer seems to promise. Still, it's a mess, a failed comedy that's both frantic and leaden, and largely laughless. As a vehicle for Johnny Depp, coming off five years of duds like The Tourist, The Rum Diary, Dark Shadows, and The Lone Ranger, it's another dire misstep along the path of facile muggery and simpering self-regard.
The movie is based on a '70s cult novel by the late English writer Kyril Bonfiglioli, whose specialty was an updated take on the fusty brilliance of P.G. Wodehouse. Bonfiglioli's protagonist, Charlie Mortdecai (Depp's role here) is a dissolute British aristocrat whose fortune is running out. He's down to his last country estate and vintage Rolls, his marriage to the svelte Johanna (Gwyneth Paltrow) is collapsing, and he's compelled to take part in shady art dealings to make ends meet.