Senate Votes 98 to 1: Climate Change Is Real and Not a Hoax
Senators vote 50 to 49 that it is "sense of the Senate" that "human activity significantly contributes to climate change."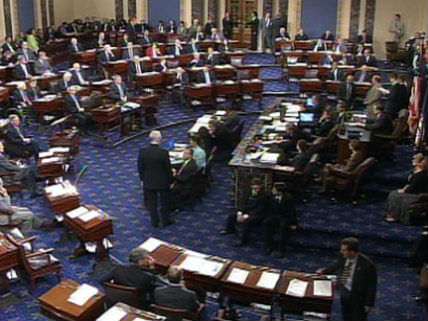 Members of the U.S. Senate voted today on various amendments to the legislation that would authorize the construction of the Keystone XL pipeline. That pipeline would transport more than 800,000 barrels of Canadian oil sands crude per day to U.S. Gulf coast refineries.
Among those amendments were three that basically asked the senators what they think about climate change science. ScienceInsider over at the American Association for the Advancement of Science reports:
By a 98 to 1 vote, the U.S. Senate approved Senator Sheldon Whitehouse's (D–RI) amendment that asked simply whether it is "the sense of the Senate that climate change is real and not a hoax." The only senator voting no was Roger Wicker (R–MS). …

Votes on two other measures declaring that humans are changing the climate were much closer.

Senator John Hoeven (R–ND) offered an amendment affirming that climate change is real and humans are contributing to it. But it also included the State Department's finding that the Keystone XL pipeline wouldn't significantly worsen climate change, a provision likely meant to entice moderate Republicans into supporting the measure. In the end, the vote was 59 to 40 in favor, one shy of the 60 needed for adoption.

Hoeven's measure was seeking to serve as a more GOP-friendly alternative to a third climate amendment from Senator Brian Schatz (D–HI). Schatz's measure asked whether it's the "sense of Congress" that "climate change is real" and that "human activity significantly contributes to climate change." It also failed to reach the 60 vote threshold, on a vote of 50 to 49.
Of course, the senatorial votes on the reality or unreality of climate change are entirely irrelevant to whatever the scientific facts are. Instead the votes basically register what the senators think their constituents want to hear. Sheeesh. Perhaps the more relevant question is: Is the U.S. Senate a hoax?