Protests, Arrests, Explosions, Venezuela Boiling Over? How Long Would You Wait in Line for Diapers if You Weren't a Government Spokesperson?
An increasingly dire economic situation caused by Venezuela's socialist government is leading to renewed protests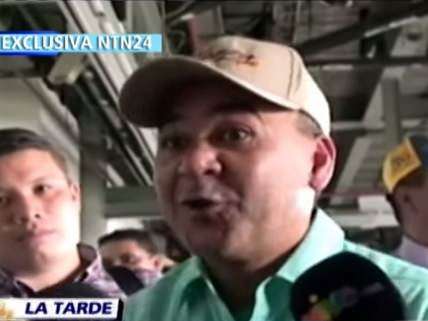 Oil prices have tumbled in recent weeks.  It sent Venezuela's president, Nicolas Maduro, to Riyadh to beg Saudi Arabia and other members of OPEC to cut production and bring prices back up. As the Saudi prince Alwaleed bin Talal explained "had Saudi Arabia cut its production by 1 or 2 million barrels, that 1 or 2 million would have been produced by others." Prices are going down despite OPEC, not because of it, so Maduro is unlikely to find relief there. Relief he needs because his government's socialist chavista polices have caused shortages of everything from potatoes to toilet paper. Petrol revenue once oiled the machinery of the government, providing it the money needed to keep people from feeling the ill effects of the government's economic interventionism. Hugo Chavez's charisma probably helped too.
Food Minister Yván Bello Rojas explains what the real problem in Venezuela is, via Business Insider:
"I've been in tons of lines. I went to my favorite sports team's game this weekend, and I had to get in line to get a parking space. I got in line to buy my ticket. And then … I made a line to get into the stadium. And you know what, I made a line to find my seat. And then you know what," Bello finished with satisfaction, "I went to go buy an arepa [Venezuelan sandwich] … and I had to wait in line there, too."

Reporter Ana Vanessa Herrero then asked him about a woman she'd recently interviewed who was looking for diapers for two days and couldn't find them.

"She's exaggerating," he said, "no one would wait in line for six days for anything," he added, interrupting the chorus of reporters throwing out anecdotes to the contrary.

Earlier in the seven-minute interview Bello explained the shortage problem was not due to an unbalanced Venezuelan economy manipulated by government price regulation and bloated by government spending, but due to issues with distribution.

"The same people can't just go and buy the same products every day," Rojas said matter-of-factly, adding that one person couldn't possibly buy one gallon of milk per day, for example, even if they had the money to do it. "More than anything [the shortage] is a distribution problem because if any government has done their homework on food, it's this Bolivaran government."
The problem is with centralization, a feature of Bolivarian and all other forms of command economy. The "critics are exagerrating" defense sounds familiar.
The self-inflicted economic crisis has led to renewed protests. Reuters reports:
Police rounded up 16 people for protesting in front of stores over the weekend, according to the opposition MUD coalition, which said four of them were released shortly after.

Rights group Penal Forum said 18 protesters were still behind bars on Monday. The government did not confirm that…

The MUD also accused soldiers posted outside shops of banning photos of the lines, which sometimes snake around blocks.

"Not only is the government forcing people to get into humiliating queues … it also wants the lines to be Cuban-style, silent and terrified," said MUD chief Jesus Torrealba.

On Saturday, an explosive device was thrown into a building of the state phone company Cantv in southeastern Puerto Ordaz city, burning eight vehicles, the government said. In western San Cristobal, six masked men threw a molotov cocktail into a parked bus belonging to a local university, students said on Monday.
Venezuela's nominally democratic government is likely to use reports of violence to try to silence the wider opposition to its destructive policies, having seen a period of extended, mass protests early last year.