Inherent Vice
Joaquin Phoenix woozes out in Paul Thomas Anderson's pothead crime flick.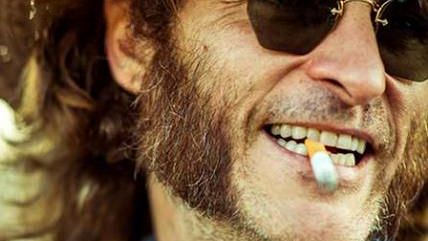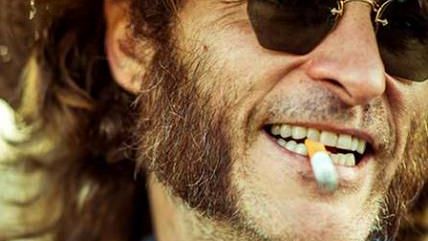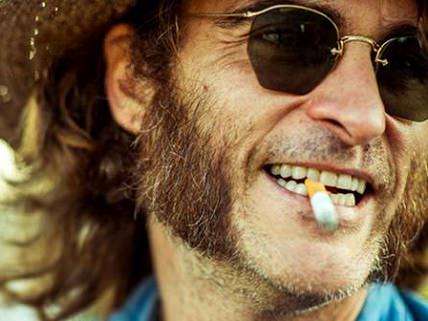 Inherent Vice might have been more fun if it had been played a little straighter. Thomas Pynchon's 2009 novel, set in the L.A. beach-town culture of 1970, is a stoned shaggy-dog story that's fat with pulp-fiction signifiers: snarling cops, neo-Nazi bikers, Indochinese drug smugglers, and, best of all, the Golden Fang—which could be either a mysterious red-sailed schooner, a shadowy international heroin cartel, or a syndicate of coked-up dentists.
Pynchon didn't pretend that any of this added up to much, which was fine—we enjoyed his taffy-pull prose and his little hipster jokes. But writer-director Paul Thomas Anderson doesn't take Pynchon's story seriously either—a considerable misjudgment, I'd say. Pause for a moment to recall Raiders of the Lost Ark, a movie that parodied the conventions of pulp thrillers, but also functioned as one—it didn't let its parody take the place of its story. Anderson simply lays out Pynchon's giddy plot elements and invites us to join him in admiring them. He's unflaggingly faithful to the novel, but the result—in terms of narrative involvement and simple entertainment—isn't much of a movie. (Although at a run-time of two and a half hours, it's also too much of one.)
Pynchon's protagonist, a pothead private detective named Doc Sportello, is a character that was once eyed by Robert Downey Jr., who surely would have brought some energetic invention to the role. But Anderson ultimately cast Joaquin Phoenix in the part, and Phoenix, in overgrown muttonchops and ratty fatigue jackets, takes a mumbly, Method approach to the part, rolling joints and squinting in reefer-hazed incomprehension as the story sprawls out around him.
It begins with a late-night appearance in Doc's beach-side pad by hippie-chick siren Shasta Fay Hepworth (Katherine Waterston), his ex-girlfriend. She has become entangled with a millionaire real-estate greed-head named Mickey Wolfmann (Eric Roberts), and is now on the run from Wolfmann's wife, Sloane (Serena Scott Thomas), and Sloane's boyfriend, Riggs Warbling (Andrew Simpson), who want Shasta to assist them in committing Wolfmann to a mental institution. Shasta wonders if Doc's unlikely current squeeze, Deputy D.A. Penny Kimball (Reese Witherspoon), might be of help. As with so much else, Doc's not sure about that. (His motto: "Thinking comes later.")
In his P.I. office, which he shares with a speed-dealing medico named Buddy Tubeside (Martin Dew), Doc is visited by ex-con Tariq Khalil (Michael Kenneth Williams), who's fresh out of stir and wondering what happened to his old gang turf, which is now being gentrified into something called Channel View Estates—a Mickey Wolfmann project, it turns out. Doc's inquiries take him to a hilariously garish massage parlor called Chick Planet (today's special: "Pussy Feast"), where he encounters a dead body and, soon after, his longtime nemesis, LAPD Detective "Bigfoot" Bjornsen (Josh Brolin), a hard-nosed blockhead dedicated to the violation of civil rights wherever he may find them. Doc shakes off Bjornsen with the help of attorney Sauncho Smilax (Benicio Del Toro), then moves on to ponder the problems of Hope Harlingen (Jena Malone), whose husband, surf-rock saxophonist Coy Harlingen (Owen Wilson), has suddenly gone dead, or maybe just missing. Before he knows it, Doc is snorting blow with a mad dentist named Rudy Blatnoyd (Martin Short), huffing nitrous with one Clancy Charlock (porn star Belladonna), taking in Golden Fang tips from a squeaky masseuse named Jade (Hong Chau), and woozily contemplating a contract killer named Adrian Prussia (Peter McRobbie).
This is a lot of stuff, but it never coheres into much of a story. There's nothing at stake in the plot, and the characters are self-contained oddball units that don't really interrelate—they're just amusing kooks. Anderson's longtime cinematographer, Robert Elswit, provides some gorgeous golden-hour lighting, and there's an amiable, guitar-noodly score by Jonny Greenwood (bolstered with vintage tracks by Neil Young, Chuck Jackson and Supergrass). But as a riff on the film-noir detective genre, the movie seems wary of the pulp pleasures of the old crime flicks to which Pynchon alluded, and so it never delivers them. This is a mystery, of sorts, but possibly not one you'd want to pay to see—not in a theater, anyway.