At Least 12 Killed After Gunmen Attack Satirical Newspaper in France in Likely Islamist Attack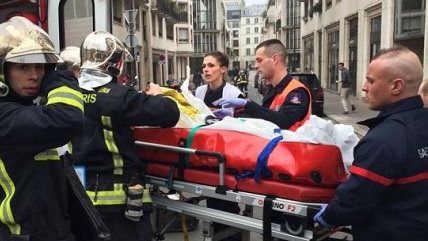 At least 12 people were killed in an attack by masked gunmen on the satirical French newspaper Charlie Hebdo. The gunmen were reported to have been chanting "Allahu Akhbar" and the newspaper has received threats for its satirical depictions of Mohammed, considered a prophet by Muslims.
France 24 reports:
Gunmen have attacked French satirical weekly Charlie Hebdo in Paris Wednesday, with officials reporting 12 fatalities – including two police officers. President François Hollande called it a 'terrorist attack'.
Follow their live coverage here.
Related: Everybody Draw Mohammed Day