A Most Violent Year
Oscar Isaac and Jessica Chastain standing their ground in thug city.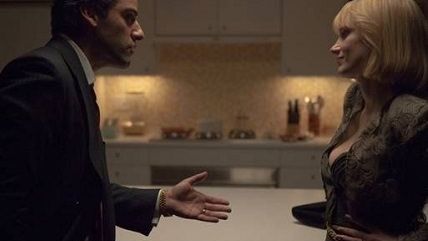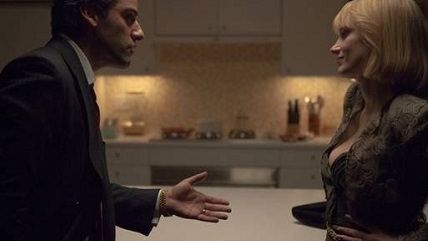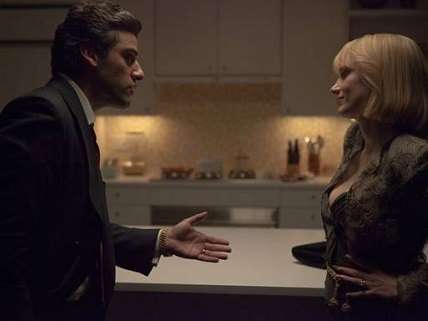 J.C. Chandor's A Most Violent Year so strongly recalls The Godfather that you wonder as you're watching it how the director will manage to fashion the movie into something entirely his own. But in a careful, small-scale way, he does. As in the Coppola mob classic, the characters are often cloaked in shadow, lit from above or behind, in the manner of the late Godfather cinematographer Gordon Willis. The picture has a quiet intimacy that consistently evokes the famous Corleone saga; and in the lead role, Oscar Isaac, as an urban idealist chasing the American dream in a world of depraved criminality, suggests the coiled intensity of Al Pacino's Michael Corleone without simply channeling it. (This is a true breakout performance, well beyond the one Isaac gave in last year's over­hyped Inside Llewyn Davis.)
The story is set in New York City in 1981—the bad old days of crime and corruption and general municipal sleaze. Abel Morales (Isaac) is the ambitious young owner of a home-­heating­-oil company whose success has drawn the resentment of his entrenched competitors. Somebody has been jacking Abel's fuel trucks; it's costing him a fortune, and he's sure his unscrupulous rivals are responsible. But Abel prides himself on being a man with a strong moral code, and he refuses to get down in the gutter to strike back against the men who are robbing him.
Abel's wife and partner, Anna (a tough­-talking Jessica Chastain) mocks her husband's principled stance. She has some hard­boiled business moves of her own, learned from her mobbed­ up father, and she's on the verge of applying them. "You're not gonna like what's gonna happen when I get involved," she warns Abel.
Chandor hooks the plot on Abel's determination to buy an old shipping terminal that will give him access to the waterfront, enabling direct fuel­-oil deliveries and providing vast storage capacity. He's already made a down payment on the property and is awaiting a bank loan to consummate the deal. But when an intrepid district attorney (David Oyelowo, excellent yet again) announces that he's about to indict Abel for shady business practices, the bank backs out on the loan, leaving Abel with just days to come up with $1.5­million from other, less­ savory sources.
This is Chandor's third feature (after Margin Call and last year's All Is Lost) and his script is characteristically nimble, scattering shreds of character information without nudging emphasis. (We learn in passing that Abel started out as a fuel-­truck driver himself; and while he considers himself more honest than anyone else in his gritty business, we see that he and Anna do keep a second set of books squirreled away in their woodsy suburban home.) The director also delivers some perfectly shaped scenes, foremost among them an intense sotto voce instructional talk to young newbies on Abel's sales staff and a kiddie birthday party at his house that's rudely interrupted by a squad of cops bearing a search warrant.
There are also a bursts of action (two elaborately staged chase sequences) and solid supporting performances by Albert Brooks, as Abel's slumpy lawyer; Peter Gerety as a crusty Teamsters chief; Elyes Gabel as a desperate driver; and the always adroit Alessandro Nivola as the slickest and most deceptive of Abel's antagonists. But it's the easy chemistry between Isaac and Chastain, onetime Juilliard classmates, that colors the film most memorably. Isaac's Abel, in his tailored suits and suave camelhair topcoat, and Chastain's Anna, in her period Armani, are nouveaux riches with much to lose, and no intention of losing it. And at the end, we realize that their upward mobility has only just begun.