Stop Complaining About That Flying Car. You Have Amazon.
Getting stuff gets more awesome every day.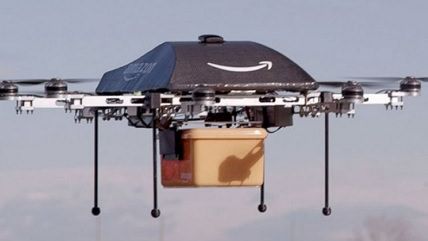 In the 20th century, flying cars expressed the ultimate dream of personal autonomy, the power to propel yourself anywhere. In the 21st century, the stuff we want comes to us. For customers in a handful of cities who pay an annual $299 fee, Amazon promises same-day delivery of 500,000 items-everything from groceries to office equipment. "Place your order by 10 AM and have it by dinner," Amazon's website advises.
Soon you might only have to wait until lunch. In January 2014, Amazon patented a process it calls "anticipatory package shipping." Essentially, this involves predicting what items specific customers might buy, shipping those goods to nearby fulfillment centers, and possibly even loading them onto AmazonFresh delivery trucks before an actual order has been placed. This way, they'll be near at hand when the last remaining bottleneck in the company's increasingly efficient distribution chain-the slow-witted customer-finally realizes he has an urge to obtain a digital bath scale post-haste.
What Amazon is moving toward with such capabilities, Wired recently suggested, is a "21st-century version of the milkman and the mail carrier combined." And perhaps when it attains that status, it will attempt an even grander feat: Equaling the convenience of the 20th-century ice-cream truck.
In 1926, the citizens of Youngs­town, Ohio, could get a Good Humor bar delivered to them without lifting a finger. In the tradition of 19th-century peddlers, ice cream entrepreneur Harry Burt introduced a new technology of predatory retail, equipping a dozen Ford trucks with freezers and going out in search of customers wherever he could find them. A few decades later, the Good Humor fleet had grown to 2,000 trucks and was generating the bulk of the company's sales.
Rising gas prices and a shift toward the less dense suburbs ultimately undermined the power of this mobile distribution network. In the 1970s, Good Humor sold its vehicles to individual private operators. But conditions are shifting again. Our cities are packed with consumers who believe that atoms should arrive on their doorsteps nearly as fast as bits. Pick-up and delivery services proliferate in these places, and bulky and costly physical retail storefronts are beginning to feel like printing presses-obsolescing infrastructure that often adds little value.
Traditional retail won't disappear completely. In a bit of sales theater, Amazon itself is opening a bricks-and-mortar store in New York City that will give its customers there an opportunity to engage in heritage shopping. But if customers still do appreciate the instant gratification you can get at 7-Eleven, not to mention the opportunity to comprehensively assess a peach before purchase, why not combine such functionality with the convenience of mobile?
Amazon has yet to travel this particular last mile. Uber hasn't either. Over the last couple of years, the ridesharing service has dispatched local ice cream trucks to its customers one day each summer. While these events are intended to promote the convenience of Uber, they also complicate the traditional ice cream truck experience in a couple of ways. First the customer has to place an order to initiate a delivery. Then he has to stay chained to a specific address until the truck shows up. This is a step backward from the ultra-convenient approach Harry Burt pioneered in 1926, not a bold leap forward.
Imagine if Amazon's growing fleet of delivery vehicles functioned like true mobile retail units. With its deep knowledge of what people in various neighborhoods are buying, it could turn its trucks into rolling, demographically tailored convenience stores. If you were on the street as one was making its daily rounds through your neighborhood, you could hail it like a cab and purchase the latest model of its Fire Phone with a click of your old Fire Phone. If you were inside your house as a truck approached, your phone would alert with you with a signature jingle (or a well-timed SMS) and you could go outside to greet it.
It's not just that most delivery trucks don't act like truly mobile retailers these days. Most mobile retailers don't either. In the wake of the food truck vogue, other forms of truck-based entrepreneurism are starting to show up in cities around the country. There are flower trucks, dog-grooming trucks, skincare studios, clothing boutiques, even a mobile cigar lounge.
For budding entrepreneurs, the appeal of a truck is obvious. Because these other forms of mobile retail don't need kitchen equipment, they're generally much cheaper than a food truck-operators pay an average of around $20,000, according to a poll conducted by the American Mobile Retail Association (AMRA). A lease does not have to be secured. With only 50 to 200 square feet of floor space to fill at any one time, you don't need much inventory either. A mobile retail truck offers micro-entrepreneurs an inexpensive and flexible way to test new concepts and to determine where demand for such goods and services is strongest.
But like food trucks, most mobile retailers aren't that mobile. They drive to a designated spot, stop, and wait for customers. And in the current regulatory landscape, even this limited mobility is problematic. As soon as you start engaging in commerce on a truck, most municipalities require licensing of one sort or another-one reason why Amazon might be happy just to stick with delivery for now.
In addition, the rules and regulations for how mobile retailers can operate vary from city to city. "In Los Angeles, mobile boutique businesses are restricted to operate on private property," says AMRA president Stacey Jischke-Steffe. "Other cities, such as Santa Monica, have a peddler's permit which allows mobile boutiques to operate on public streets."
Jischke-Steffe says she has only heard of a few cases where cities do not allow mobile retailers to operate at all. "I just talked to a mobile boutique owner in South Florida that said some of the smaller towns in south Florida have denied allowing her to operate in any capacity."
Complying with multiple municipal codes undermines some of the flexibility and convenience that makes mobile retail an attractive venue for micro-entrepreneurism. "Here in the Bay Area, you could have an entrepreneur who's trying to sell in five different municipalities as they go to different festivals and outdoor markets," says Sarah Filley, executive director of Popuphood, a small business incubator based in Oakland, California. "As much as they would like to comply, they can't."
To make it easier for California's mobile retailers to operate more mobile-ly, Popuphood advocated for something it calls Standard Popup Regulations Zones, or SPURZ. A bill introduced in the state's legislature last year would have created model guidelines that cities across the state could adopt to regulate mobile retailers and other forms of temporary retail in a more streamlined way. But Gov. Jerry Brown vetoed the bill in September 2014, so now Filley is trying to fund the development of a model ordinance through private sources, then encourage cities to adopt it once it exists.
In the meantime, technology is blurring the lines between retail and delivery in intriguing ways. If the transactions that occur on a truck are consummated by phone, with no actual cash changing hands, is it delivery or mobile retail?
In Oakland, Berkeley, and San Francisco, a food company called Spoonrocket is now offering something that almost qualifies as a 21st century ice cream truck. Every day, its central facility produces a small number of meal choices, and these meals are loaded onto its cars, where they're stored in heating units. Then the cars simply head out to various neighborhoods and wait for customers to order. This way, there's always a car nearby in the areas that Spoonrocket serves, which allows it to deliver orders in 10 minutes or less.
Customers are expected to go out to the curb to complete the meal hand-off. Payments occur in advance online, so there's no other business to slow down the transaction. You just grab your food and go. The service has an app as well-and while you have a default address, you can enter others as well. So if you're walking down the street and you see a Spoonrocket car, you can place an order, provide a local address, and potentially get your meal in seconds rather than minutes.
For the moment, such functionality is limited to Mac & Cheese Italiano with Creamy Pesto or Grilled Chicken Apple Sausage with Chipotle BBQ Sauce. But imagine if Amazon were to embrace this approach. Suddenly, we'd be able to make hundreds, maybe thousands, of staple items appear at our curbs, at speeds that would even make George Jetson jealous.
This article originally appeared in print under the headline "Stop Complaining About That Flying Car. You Have Amazon.".