Baby Jesus Kidnapped and Replaced with Pig's Head, 'Screech' from Saved By the Bell Stabbed Somebody, Home Alone and Saw Have a Crazy Connection: Wacky Post-Christmas P.M. Links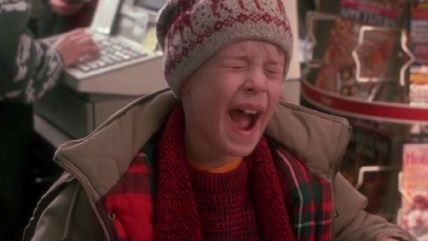 Home Alone / Twentieth Century Fox

Dustin Diamond, who is known for playing Screech on Saved By the Bell (and not much else), was arrested for stabbing a man at a bar in Wisconsin.

The baby Jesus was stolen from a public display at Sacred Hearts Church in Haverhill, Massachusetts. The perpetrator replaced the statue with a real pig's head.
Here is an awesome holiday conspiracy theory: Kevin McCallister of Home Alone grew up to be the Jigsaw Killer from the Saw movies. It makes sense!
California Gov. Jerry Brown pardoned over 100 criminals on Christmas. Many of them were nonviolent drug offenders.
Detroit's murder rate dropped in 2014, though justifiable homicides went up. Police Chief James Craig said that Detroit citizens are increasingly willing to defend themselves, and that fact may be contributing to falling crime.
The University of Illinois's decision not to hire Steven Salaita after he sent a series of controversial tweets is being scrutinized.
I'm off to see Into the Woods. The rest of you can read Scott Shackford's great article detailing its libertarian themes here.
Follow Reason on Twitter, and like us on Facebook. You can also get the top stories mailed to you—sign up here.