Is North Korea's Internet Under Cyberattack in Response to the Sony Hack?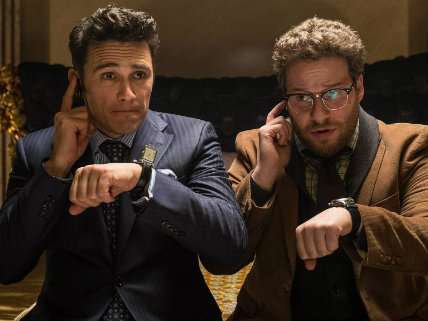 North Korea's Internet, such that it is, has gone "completely dark" today, according to The New York Times. An attack, perhaps in response to North Korea's suspected hacking of Sony Pictures, is suspected but not confirmed. Via the NYT:
The loss of service came just days after President Obama pledged that the United States would launch a "proportional response" to the recent attacks on Sony Pictures, which government officials have linked to North Korea. However, there was no indication, or easy way of determining, whether the failure was the result of an accident, an attack, or some action by the North Koreans themselves.

Doug Madory, the director of Internet analysis at Dyn Research, an Internet performance management company, said that North Korean Internet access first became unstable late Friday. The situation worsened over the weekend, and by Monday, North Korea's Internet was completely offline.

"Their networks are under duress," Mr. Madory said. "This is consistent with a DDoS attack on their routers," he said, referring to a distributed denial of service attack, in which attackers flood a network with traffic until it collapses under the load.
Last week, the Federal Bureau of Investigation formally named North Korea as the culprit in a massive hack attack on Sony Pictures, a movie studio which had planned to release The Interview, a comedy about two journalists sent to assassinate current North Korean leader Kim Jong-un, on Christmas day. Last Wednesday, Sony pulled the film from release after theater owners backed out under threat of violence.
As Gawker notes today, however, there are some security experts who are skeptical of the notion that North Korea is really behind the attack, suggesting that it's entirely possible that an ex-employee is behind the hack.
In other words, there's still an awful lot that's unclear here. That includes whether anyone will actually get to see The Interview.
Sony execs said over the weekend that the film will be released somehow, although they didn't offer any specifics. A New York Post report suggested that Sony would release the film on Crackle, a streaming video service. But a Sony representative said later that the report wasn't true, at least for the moment.
What's holding Sony back? Sony execs have said that the decision to pull the film came in response to the decision by theater chains to pull out. That excuse will be harder to maintain now that a coalition of 250 indie theaters has written a joint letter to Sony leadership asking Sony to let members screen the film. Sony has similarly indicated that it hasn't pursued digital distribution because none of the major digital video providers have indicated interest. That may be true of Netflix and Amazon, but it's harder to make sense of that excuse when it comes to Crackle; Sony owns the service.