Ayn Rand Quotes Are More Despicable Than Bill Cosby Rape Memes?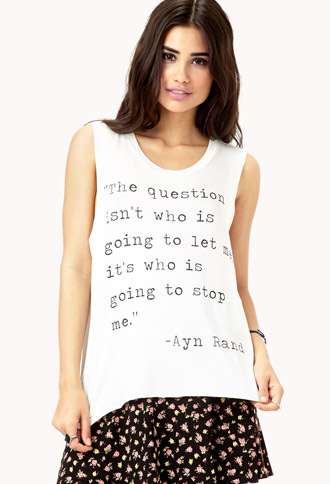 Last year, Nick Gillespie clued us in to Forever 21's "Unstoppable Muscle Tee," which allowed purchasers to boast to the world with (a variant of) Ayn Rand's words: "The question isn't who is going to let me, it's who is going to stop me."
That shirt may have hit a chord, because it's sold out even as New York magazine belatedly discovers the phenomenon after returning from an extended wait for Sunday brunch. The garments apparently sent bloody marys a-churning among compilers of that magazine's Approval Matrix, which plots current happenings prominent and obscure along a Despicable/Brilliant axis and a Highbrow/Lowbrow axis. They found "Ayn Rand, misquoted as a feminist, now featured on belly t-shirts for teenage girls" more highbrow, but also more despicable, then "Bill Cosby rape-as-meme," referring to graphics passing through social media referencing the controversy-dogged funnyman who faces a laundy list of accusations of very bad behavior.
Perusing New York media really can be an enlightening peek into a very strange world.
If you want to see the full approval matrix and find out what qualifies as Brilliant and Highbrow, see here. You can still find the Rand sort-of-quote on the apparel of your choice from other vendors.