Catalonia Votes to Secede from Spain…Sort Of
The vote was overwhelming but unofficial.
Unbowed by the Scottish secessionists' failure in September, residents of Catalonia voted yesterday to separate from Spain. Sort of.
This was not a legally binding referendum—that had been the original plan, but the authorities in Madrid made it clear that they considered such a vote illegal. So the locals organized a symbolic poll instead. As The Guardian explained last week,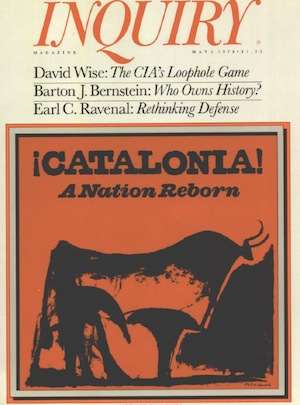 Spain's justice minister, Rafael Catalá, said the regional government "cannot promote a consultation that goes against the constitution. But nobody is going to stop citizens from exercising their freedom of expression."

Thousands of volunteers across Catalonia have seized on his words as an invitation to push forward. In Girona, some 600 of them have been working day and night to ensure the city's residents can vote. The legal suspension of the referendum means that not one of the 21 polling stations normally used during elections can be used. Instead volunteers, such as Carme Renedo, have created seven ad-hoc voting stations. "It's very complicated," she sighed.
The referendum's final results are not in, but today's Guardian reports that about 80.7 percent of the participants agreed that Catalonia should be an independent state. Under the circumstances, of course, you would expect the secessionists to be more motivated to get to the polls. Indeed, the anti-independence parties asked their supporters to boycott the process. So the more important question is how many people turned out.
According to this morning's press reports, out of 5.4 million eligible voters, 2.2 million showed up. That's not exactly as overwhelming as 80.7 percent. But it may be a number large enough to power a push for a legally binding ballot measure, or for a form of devolution that stops short of independence.
Bonus link: I can't recall Reason running anything about Catalan separatism in the past, but Cato's old Inquiry magazine published this back in 1978.