Midterm Identity Crisis
On election eve, the two major parties don't seem to know who they are any more.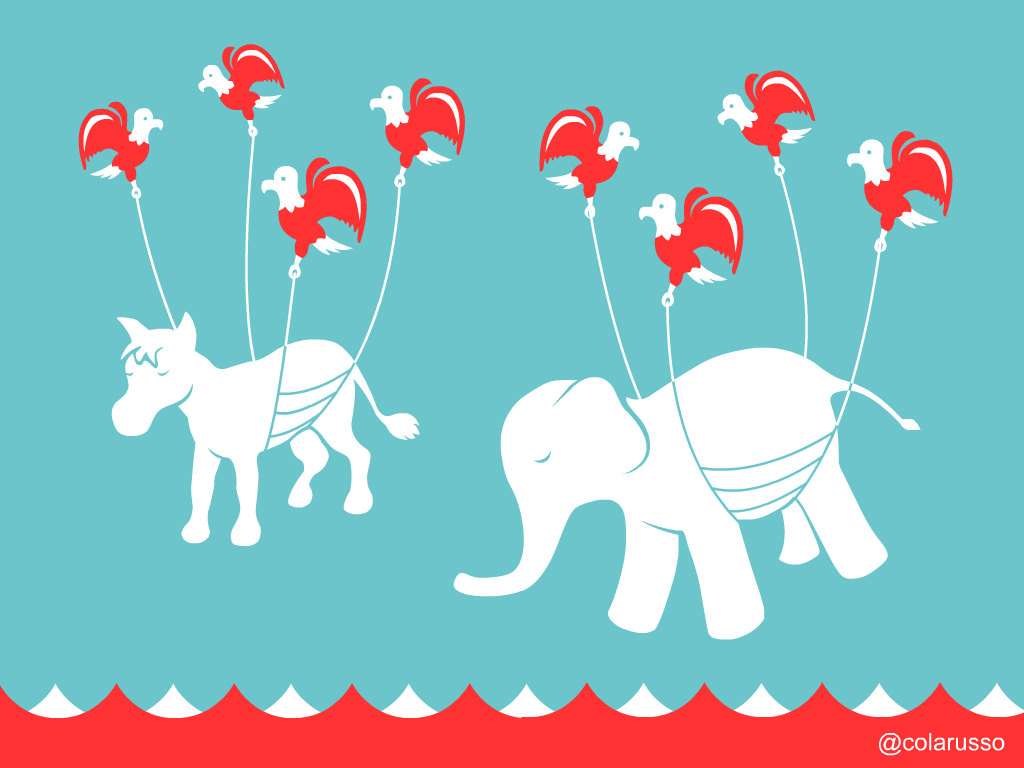 In the run-up to the 2006 midterm elections, voters had grown weary of a second-term president with his large-scale domestic bungles (like Hurricane Katrina) and never-ending wars in Iraq and Afghanistan. As punishment, they stripped the president's party of majority control over both House and Senate.
Eight years later, voters have grown weary of a second-term president with his large-scale domestic bungles (like Obamacare) and never-ending wars in Iraq and Afghanistan. (And Syria. And Libya.) The big question for the 2014 midterms is whether the opposition party, having already retaken the House of Representatives, will gain a majority in the Senate as well.
For much of the summer, nearly every independent analyst predicted that the GOP would narrowly re-take the Senate in November's elections. At the start of September, popular political prognosticator Nate Silver gave the Republicans a 62.2 percent chance of taking majority control of the body. But as the month wore on, the likelihood of Republican restoration inched down to 58.5 percent.
Even though Americans continue to be depressed about the weakest economic recovery in the post-war era, and even though they consistently tell pollsters that they are fed up with the political status quo, it's still a coin flip as to whether Republicans will be able to take advantage of the dissatisfaction. One possible explanation for the hesitation is that the GOP, after a raucous six years of internecine struggle, still appears to be philosophically mixed up.
Efforts to replace milquetoast GOP incumbents with fire-breathing Tea Party conservatives largely failed in the 2014 primary seasons, with the notable exception of the scalp collected from House Majority Leader Eric Cantor (R-Va.). Establishment stalwarts Mitch McConnell of Kentucky, Lindsay Graham of South Carolina, and Lamar Alexander of Tennessee easily swatted down insurgent efforts to dislodge them.
But the establishment also suffered losses during incumbent-challenging season, most notably in the expensive, nasty campaign to dislodge Rep. Justin Amash (R-Mich.). Amash, a staunch anti-interventionist and privacy advocate who has emerged as the leader of the House libertarian faction, squared off against primary insurgent Brian Ellis, who was backed by such establishment conservatives as Karl Rove, Rep. Mike Rogers (R-Mich.), and Michigan's Chamber of Commerce. After a campaign that called Amash "Al Qaeda's best friend," Ellis lost by 15 percentage points, causing Capitol Hill's Liberty Caucus to breathe a collective sigh of relief.
Even though Congress has repeatedly hit new lows in public opinion polls over the past few years, only four House incumbents, and no incumbent Senators, lost their primaries. But the challenges to party orthodoxy keep coming, on issues ranging from gay marriage to foreign interventionism.
Both parties are struggling to adapt to the late Obama era. The fault lines are more obvious in the Republican Party, but the Democratic Party is also riven by divisions over economic populism, immigration reform, and war. If midterm elections are the first shake of the Magic 8 Ball to divine what a post-Obama America is going to look like, the best answer available right now may be: Ask Again Later.
Pink Elephants on Parade
The existence of openly gay Republicans is not a new phenomenon. The Log Cabin Republicans, an organization for gay men and women within the party, was founded in California way back in 1977.
But gay candidates have been grabbing more headlines in recent years, as the GOP struggles to fit into a world growing increasingly comfortable with same-sex unions. The Republican Party has long campaigned on the primacy of heterosexual marriage, re-upping that stance in its most recent national platform, but that position seems demographically unsustainable in coming election cycles. More than half of Americans now say they favor legalizing gay marriage. Even among evangelical Christians, support for same-sex marriage has doubled over the past decade, to 27 percent, according to the nonpartisan Public Religion Research Institute.
In this context, it makes sense that the three gay Republicans running for Congress this year have drawn significant national media attention. They are Carl DeMaio, challenging Democrat Scott Peters to represent California's 52nd District in San Diego; Richard Tisei, running against Seth Moulton (one of the few Democrats to dislodge an incumbent in a primary this year) to represent Massachusetts' 6th District; and Dan Innis, who lost a primary fight for New Hampshire's 1st District.
Innis, who called for federal surveillance reforms, lost his primary in September to a more traditional Republican named Frank Guinta. DeMaio (who is an independent contractor for the Reason Foundation, the nonprofit that publishes reason) is a pension-reform crusader who came in second in California's top-two primary system earlier this year and will face Peters in November. Tisei, a deregulation-focused business conservative, was not challenged in his primary.
If either DeMaio or Tisei wins in the fall, he'll be the first openly gay Republican elected to Congress. (Retired Arizona Rep. Jim Kolbe came out in 1996 while he was serving in office, not prior to his election.) If Republican voters embrace DeMaio or Tisei, that could send a strong signal to the national party that it's time to move on from the anti-gay-marriage focus championed by strategists such as Karl Rove.
Although none of the three has made gay issues part of his campaign, they don't hide their sexual orientations either. All three included their partners in their public personae, including appearances at photo ops and in campaign literature.
Innis says the media appeared to be more interested in his sexual orientation than the voters were. "Here in New Hampshire not that many people pay attention to it," he said. "I've been asked about it maybe two or three times. Here, it's settled law." (Same-sex marriage recognition came to New Hampshire in 2010.) "We have our 'live free or die' mentality…I think the party has come to a place where it's much more accepting of us now and with us running for office."
DeMaio hopes that sexual orientation will eventually become a non-issue for the party, and that candidates will be judged on their positions and effectiveness on issues of national import. "On [primary] election night, I said this should send a national message that the Republican Party should return to its traditional roots: freedom in all aspects, lower taxes and regulation," he said. "If you're willing to trust people to spend their own money, are you willing to trust people to live their lives?"
DeMaio and Tisei have libertarian threads in their policy portfolios. DeMaio has been pushing for privatization. Tisei opposes tax increases, supports medical marijuana, and is against parts of the PATRIOT Act.
Do the openly gay Republican candidates see the GOP moving in a more libertarian direction? "Let me put it this way-I'm a candidate that supports small government, low taxes, low regulation, and keeping the government out of my daily life," says Innis. "I think here in New Hampshire the Republican Party is turning in that direction."
DeMaio is more direct: "I think American people have grown libertarian. And the party has been flirting with it. It's time the flirtation blossomed into a full romance."
Democratic Fissures
Rifts have appeared on the Democratic side as well: progressives vs. centrists, anti-imperialists vs. interventionists, Sen. Elizabeth Warren (D-Mass.) vs. Hillary Clinton.
It's still too soon to know whether Warren will give Clinton a challenge from her left in 2016, though the Massachusetts senator is on the record saying she does not want to run. But there was a preview of what such a fight might look like in September, when New York Gov. Andrew Cuomo fended off a spirited campaign from the progressive academic Zephyr Teachout. Cuomo represented the centrist, pro-business Democrats (complete with accusations of corruption), while Teachout wanted to ban fracking, raise the minimum wage, and roll back business-friendly tax cuts. Cuomo won, but Teachout managed to grab 34 percent of the vote despite being vastly outspent and never having previously run for office.
The Occupy Wall Street movement may not have amounted to much politically compared to the Tea Party, but there's still a whiff of dislike for government-business collusion on the left. Democrats who ignore this trend may end up facing their own Cantor-style surprise down the line.
One of the more interesting and potentially momentous Democrat-on-Democrat issues is the public-sector pension crisis, which is blowing up budgets across the country-especially in blue states such as New York, Illinois, California, and Rhode Island. In that last state, arguably the most affected by the pension crisis, Rhode Island Treasurer Gina Raimondo demonstrated by winning the Democratic primary for governor in September that pension-reform politics can work for Democrats.
Raimondo's most notable accomplishment in office was orchestrating a massive overhaul of Rhode Island's collapsing public pension program in 2011. She modified benefits for current retirees and existing workers, not just future hires, as other states have done. Most public employees in the Ocean State now have "hybrid" plans that blend 401(k)-style defined contributions with annuities.
As The Wall Street Journal noted in September, "The reforms have saved Rhode Island and its local governments $400 million this year alone. That's not chump change for a state that collects $3.5 billion annually in tax revenues. The money preserved thousands of public jobs and freed up money for schools and public works."
Raimondo also declared at a primary debate that she doesn't want to raise taxes. Disaffected public-sector unions have attempted to cast her as a tool of Wall Street, but Raimondo was able to win a plurality with 42 percent of the vote against two other Democratic candidates.
A Reason-Rupe poll from 2013 shows that Americans are on Raimondo's side, preferring to move public sector employees into 401(k)-style savings programs and make employees pay more into their benefit packages. The public simply is not buying the tool-of-Wall Street narrative, not even union-loving Democrats.
War Drums
Will any of these issues, or the many other policy problems and scandals that have plagued the Obama administration for the past couple of years, even matter in November now that the country is once again involved in a bombing war in the Middle East?
Polls have shown that around two-thirds of Americans favor military strikes against the Islamic State (ISIS) but not the deployment of ground troops. (The fact that there are active military personnel on the ground wearing boots seems not to factor into either the policy preferences of the public or the pronouncements of politicians.) And while Americans are still significantly less likely to support foreign intervention than they were in 2003, in the wake of the ISIS beheadings there has been an uptick in their willingness to do something, even if the precise threat that the Islamic State presents to the U.S. remains unclear.
President Barack Obama launched the latest U.S. war in Iraq, and the new one inside Syrian borders, without explicit congressional authorization and in the absence of an imminent threat. He said he welcomed "congressional support" but did not need it.
While some Republican leaders, such as Amash and Sen. Rand Paul of Kentucky, along with some Democrats, such as Rep. Adam Schiff of California and Sen. Tom Harkin of Iowa, argued forcefully for a congressional vote, most of their colleagues quietly acquiesced to the president. Congress easily passed a bill to spend $500 million to help arm and train Syrian rebels, and then it ended its session for fall campaigning. The rising left/right anti-war, anti-surveillance bloc that has received so much press attention over the past 18 months suddenly looked a lot less powerful.
The Bums Stick Around
America's perception of Congress is in the dumpster. Gallup's September poll put congressional approval at a mere 14 percent, one of the lowest ever seen prior to a midterm. According to a Washington Post/ABC News poll from August, half of voters were not just sick of the institution as a whole, but also unhappy with their own representative. And yet when it came down to it during primary season, there was very little punishment administered at the ballot box.
The most notable primary defeat this cycle was Eric Cantor's loss in Virginia to the unknown academic David Brat in June. Cantor was exactly the sort of Republican whom Tea Partiers had hoped to put on the chopping block-a big-government conservative and D.C. showhorse who supported the use of Washington to prop up his big- business buddies and voted "aye" on bailouts, war, and No Child Left Behind.
But that proved to be the high-water mark for throw-the-bums-out. No matter which party controls the Senate come January, we will likely see much more of the same that got us into our present morass.