Obama Hugs Ebola-Free Nurse, Does ISIS Have Chemical Weapons?, Conan O'Brien's Halloween Costume Is 'Slutty Madeleine Albright': P.M. Links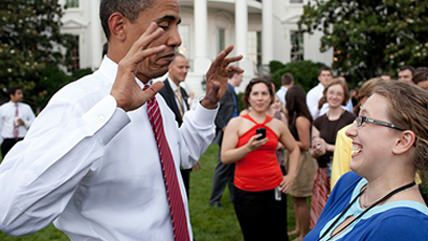 U.S. Govt.

Dallas nurse Nina Pham was declared Ebola-free today, and promptly flew to the White House where President Barack Obama gave her a hug. Since a doctor in New York City came down with the virus, health officials remind us again: WHATEVER DO, FOR THE LOVE OF GOD, DON'T PANIC! Because of this new case, some lawmakers want to require a 21-day quarantine for any doctors returning to the U.S. from Ebola-stricken nations. Meanwhile, this savvy dude just sold "Ebola.com" for $200,000.

Is the Islamic State using chemical weapons in Iraq? We're going to find out, says Secretary of State John Kerry.
Missouri police are gearing up – literally, riot-style – in anticipation of protests in case a grand jury doesn't charge Officer Darren Wilson for the shooting death of Michael Brown.
The Georgia Senate race is a statistical tie, according to one poll. Another indicates a slight lead for Democrat Michelle Nunn. Could it help the Donkey Party keep the Senate?
Conan O'Brien joked on Twitter: "I picked out my Halloween costume. I'm going as 'Slutty Madeleine Albright.'" The former Secretary of State responded: "I'm considering going as hunky Conan O'Brien—but that might be too far fetched."
Speaking of Twitter, Queen Elizabeth II signed up today and wrote, "It is a pleasure to open the Information Age exhibition today at the @ScienceMuseum and I hope people will enjoy visiting." Because nothing says "Information Age" like "@BritishMonarchy."
Breaking Bad action figures join the esteemed list of Things That Upset Some Moms Who Represent All Moms, so they've been removed from Toys "R" Us.
Hey, it's the weekend, so here's some good news: TLC is cancelling Here Comes Honey Boo Boo.
Follow Reason and Reason 24/7 on Twitter, and like us on Facebook. You can also get the top stories mailed to you—sign up here.