Despite Ebola Fears, DHS Unprepared for a Pandemic After Spending a Bundle, Warns Inspector General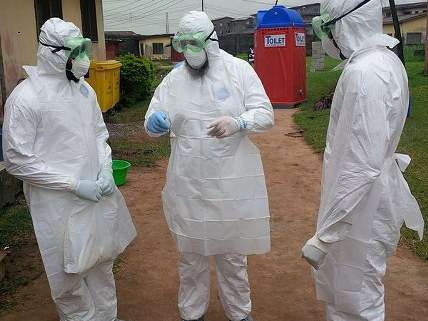 Despite years of warning, preparation, and spending, the Department of Homeland Security (DHS) is unprepared for the sort of pandemic that has been occupying Americans' minds of late, DHS Inspector General John Roth told the House Oversight Committee today. The feds have stockpiled plenty of gear and supplies, but they don't know if it's the right gear, in the right quantities, or whether it's in usable condition, because there's no game plan to speak of.
In testimony on the government's response to "the Ebola crisis," Roth described the results of an audit conducted just two months ago:
During our audit, we found that DHS did not adequately conduct a needs assessment before purchasing protective equipment and antiviral drugs. DHS reported spending $9.5 million on pandemic protective equipment beginning in 2006, yet did not identify its needs for protective equipment. Moreover, DHS spent $6.7 million for antiviral drugs, but did not have clear and documented methodologies for determining the types and quantities of medication it should purchase. In other words, we could not determine the basis for DHS' decisions on how much or what types of pandemic preparedness supplies to purchase, store, or distribute. The balance of the funds was spent on pandemic research, exercises, and storage.

By not identifying its needs, the Department cannot be sure its protective equipment stockpiles are adequate or determine whether it has excess supplies on hand.
Roth pointed out that DHS has stockpiled 350,000 white coverall suits and 16 million surgical masks without actually coming up with a justification for those numbers. The same is true of the department's hoard of antiviral drugs—although it actually has estimates for its needs in this area that it didn't actually follow. Too many? Too few? Maybe we'll find out the hard way (fortunately, Ebola is unlikely to provide a real-world test).
Oh. And the DHS's antibiotics have apparently been warehoused without any thought to how they're supposed to be stored so that they remain usable.
Of the DHS's stockpile of hand sanitizer, 84 percent is expired—so are 200,000 respirators. The entire respirator supply is expected to be unusable after next year. So is most of that antiviral stock.
All of which may be irrelevant, since DHS can't find the stuff anyway. "DHS did not readily know how much protective equipment it had on hand or where the equipment was being stored," Roth told the committee.