Jim Epstein on How Cops Are Beating Crime in America's Poorest City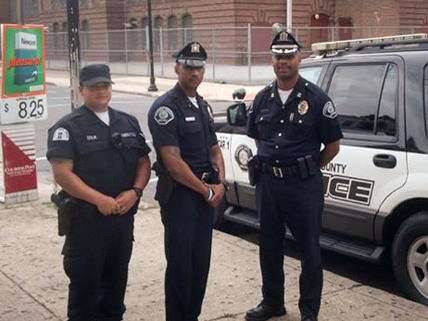 Camden, New Jersey, considered the poorest and most dangerous city in America, is getting a reputation for being the epicenter of Big Brother-style law enforcement. The city's streets are monitored by 121 cameras and 35 microphones, which feed data to a new $4.5 million Real Time Tactical Operations Intelligence Center. The police department owns a mobile "Sky Patrol," which is a platform that extends 40 feet into the air, providing a bird's eye view of the city for a bevy of camera feeds.
While Camden's tilt towards surveillance is somewhat disconcerting, writes Jim Epstein, overall the city's new approach to policing is laudable. A year and a half ago, Camden was liberated from an outrageous police union contract that let cops get away with working bankers hours and desk jobs—when they bothered to show up for work in the first place. Now, thanks to the dissolution of the union contract and other reforms, Camden cops are actually doing the job of policing this crime-ridden town. And they're making headway.