Now Available in Paperback: The United States of Paranoia
With a new afterword on the post-Snowden era.
The paperback edition of The United States of Paranoia, my history of American conspiracy folklore, comes out today. It includes a new afterword on the post-Snowden era, so the book is now both longer and cheaper, and it's easier to carry around too.
The reviewers have liked the book—and when I say "the reviewers," I mean pretty much all of them, at least as far as newspapers and magazines and webzines and journals go. (You can find some negative takes on Amazon and Goodreads, and I love this sour tweet to death.) It's enough to make a man suspect an unseen hand is acting behind the scenes, pulling the critical community's strings. Some samples: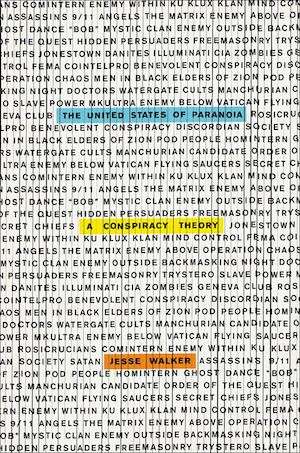 "a terrific, measured, objective study of one of American culture's most loaded topics" —Publishers Weekly

"so many tasty morsels of historical marginalia that it nearly bursts with weirdness" —The Globe and Mail

"immensely entertaining" —The Boston Globe

"lively and often witty…few readers are likely to get to the end of the book without having cherished notions challenged" —Salon

"a thoroughly researched and completely readable look at infamous and forgotten conspiracy theories and presumed cabals throughout American history" —New York Daily News

"It's all too rare to come upon a writer willing to attack the sacred cows of the right and left with equal amounts of intelligence and flair. Walker is, thankfully, that kind of writer and a tireless and thorough researcher to boot." —Los Angeles Times

"A lively, extremely interesting, and occasionally more than slightly scary book." —Booklist
Amazon named it one of the top 20 nonfiction books of 2013, and it made the Chicago Tribune's year-end best-books list too. A conspiracy theorist reviews it here, and a conspiracy debunker reviews it here. The book is also, I am informed, going to appear in the background during an episode of CSI. Disappointingly, the show assured me that "the person whose home it would be in is NOT evil."