Kim Jong-un Misses Key Event; Authorities Maintain He's in Control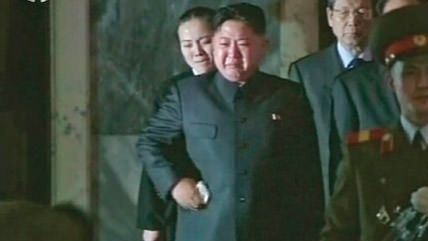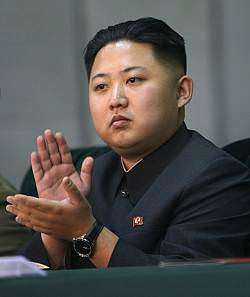 Today marks the 69th anniversary of the founding of North Korea's ruling party, an event that would normally mean squat to Americans or most other folks outside The Hermit Kingdom. However, it's a date of national significance and Dear Leader Kim Jong-un did not show up. It's the first time he's missed the celebration.
Furthermore, Kim has not been in the public eye for 37 days. That's the longest he's ever been out of the spotlight, and it's generating a lot of questions and speculation about the state of Kim's health and the state of North Korea's politics.
Officially, North Korean media acknowledges that Kim is experiencing some unspecified "discomfort." He was last seen limping and looking overweight in early September. Yesterday, "a source with access to the secretive North's leadership" assured Reuters that "Kim Jong-un is in total control" and that he simply pulled a tendon while conducting military exercises.
The Associated Press suggests that if Kim were suffering from something more serious, the national media would make no mention of health issues whatsoever. And, "South Korean officials are playing down the speculation" that power is slipping out of Kim's hands.
Likewise, The Washington Times yesterday quoted a U.S. intelligence official who says, "The fact that Kim Jong-un is out of sight is not necessarily an indication that he's not in control of the country. Despite the rumors, there are many indications that the country is functioning as it normally does."
Still, people have reason to wonder. Earlier in the week he was nowhere to be seen at an event honoring his father, and last month he was missing from an important parliamentary meeting.
One rumor is that the leader's sister, Kim Yo Jong, is acting as chief behind the scenes.
Late last week Vice quoted Jang Jin-sung, "formerly a key member of Kim Jong-il's propaganda machine" who was at a conference of exiled elites, said that Kim is no longer in control, and the powerful Organization and Guidance Department has essentially taken power. Then, over the weekend, two senior officials made an abrupt and surprisingly friendly visit to South Korea.
Gordon Chang of The Daily Beast suggests that General Hwang Pyong So, one of those two senior officials, is worth watching, because whoever makes "significant announcements" and becomes "prominent in the public eye" will likely be the real leader.
In related news, in spite of the kind gesture over weekend, North and South Korea are exchanging fire across the border.