Cop Asks Driver: 'Why Is It That Everyone Who Plays Frisbee Golf Smokes Weed?'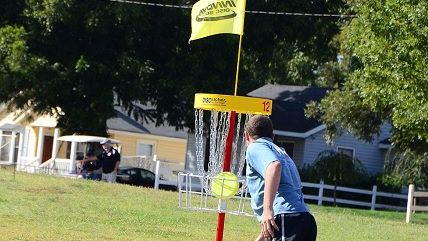 (Matt Peckham / Wikimedia Commons)
After a routine traffic stop involving a busted headlight, an Ankeny, Iowa, police officer asked the car's driver if he liked to play frisbee golf. The driver responded in the affirmative.
Then the cop asked, "Answer me this question, why is it that everyone who plays Frisbee golf smokes weed?"
Things quickly went downhill from there. The officer followed up his question with a number of confusing statements and half-hearted attempts to trick the driver into consenting to a search of the vehicle ("You can't tell me you've never smoked weed before," "How much weed do you have in the car tonight?"). The stunned but savvy driver, keenly aware of what the cop was doing, maintained that he had no drugs on him but would not be consenting to any searches based on the habits of other frisbee golf players.
"Just because I have a disc golf bag does not mean that every disc golfer does have weed," said the driver.
After a two-minute interrogation, the officer left without performing a search.
"Oh my fucking gosh," said the driver's passenger after the encounter had ended.
Oh my fucking gosh, indeed.
A video of the incident was posted to Youtube. Local news channel KCCI.com followed up with the Ankeny police department; Chief Gary Mikulec apologized for the officer's line of questioning and said the matter would be investigated.
Watch out, frisbee golfers. Video below.