Watch This Pittsburgh Detective Steal a Man's Money at 7-Eleven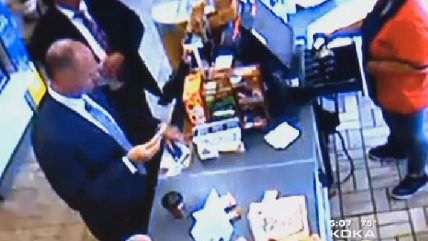 (Screenshot/CBS Pittsburgh)
Another day, another American whose personal dealings with local police zap him of all faith in "the system". Pittsburgh resident Robert Simpson was "the kind of guy who believes in the system" until a recent run-in with a greedy detective and a department uninterested in punishing him.
Last summer, Simpson accidently left an envelope containing $220 on a 7-Eleven counter after setting it there while he paid, according to CBS Pittsburgh.
When he returned, it was gone. He was sure he left it on the counter and talked to a clerk. "She told me at that point that if that's the case, I can tell you exactly who took it because the cameras will show you," he said. The surveillance video was reviewed and it showed that a few minutes earlier, city detective Michael Reddy allegedly took it.
Simpson said Detective Reddy was still in the 7-Eleven when he came back looking for his money not long later:
"I came back in the store and both occasions he was standing less than 15 feet from me when I asked for my money. And he never responded. And he's standing there with it in his pocket. Anybody who knows me knows that if I'm talking you can hear me a block away."
Reddy didn't tell his partner or anyone else about the money until he was questioned about it by superiors later, after Simpson got in touch with the department. But Reddy testified at a hearing this week that he certainly intended all along to turn the money over, and District Judge James Hanley dropped the theft charges that had been brought against him.
Simpson told CBS he's shocked by the decision. "Here they're showing me that the system doesn't work, at least it doesn't work in Allegheny County," he said. But, but … this detective certainly looks like he made all good-faith efforts to find out who the money belongs to, no?