Friday A/V Club: FDR, Cartoon Character
Franklin Roosevelt meets Oswald the Lucky Rabbit.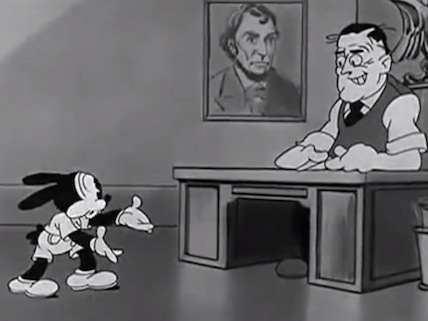 Confidence (1933) begins as many early-'30s cartoons do, with a bunch of animals dancing in a farmyard. When the dancing's done, they get to work, laying eggs and so forth. And then the Depression starts, as symbolized by a skull-faced figure in a cloak that says DEPRESSION flying around and terrorizing everyone. The hens won't lay, there's a run on a bank, the stock market crashes, and cute little Oswald the Rabbit flies to Washington, D.C., to meet with President Franklin Roosevelt, who delivers a stirring song about confidence.
Two things you might notice about this version of FDR:
1. He can walk.
2. He has Hitler hair. Or at least it looks a lot more like Hitler hair than FDR hair.
Oswald fills up a syringe from the president's personal barrel full of confidence, returns home, and marches around the farm, restoring prosperity by giving everyone shots. A merry song plays on the soundtrack, featuring lyrics like New day coming/for worker and drone! And then the barnyard starts dancing again. The end. Thank you, Mr. President!
Enjoy:
(Thanks to Joel Schlosberg for passing this one along. For past editions of the Friday A/V Club, go here.)