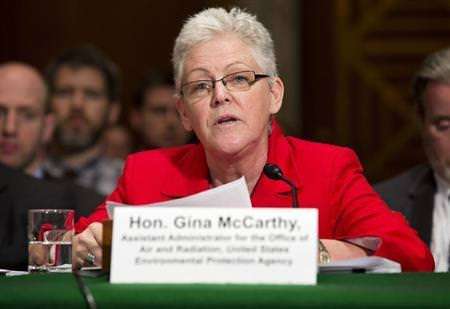 Some people wonder how many grains of wheat a pile make. Others, like Rep. Darrell Issa (R-Calif.), wonder "how much pornography would it take for an EPA employee to lose his job?"
The question, it seems, is rhetorical. The Washington Post has followed up on the randy Environmental Protection Agency (EPA) employee who admitted to watching two to six hours of porn a day at work: four months later, he's still pulling pay.
EPA's spokeswoman Liz Purchia confirmed that the porn-watching employee is still employed but on leave, but could not comment further because of the ongoing investigation.
The EPA's inspector general reported that the employee had downloaded over 7,000 porn files—and was even caught in the act red-handed when the IG special agent walked into the office for an interview.
We need to get hard on these masturbatory delinquents, says Rep. Mark Meadows (R-N.C.), who recently introduced a bill "to make it a uniform federal government law that employees cannot look at porn at work."
Meadows acknowledges that this is a systemic bacchanal not limited to the EPA. The Week reported in August that employees from other government agencies were also caught with their pants down—mostly for lack of anything better to do:
An employee at the Federal Communications Commission told investigators that the reason he watched up to eight hours of porn at work every week was "out of boredom."…A Treasury employee who had viewed more than 13,000 pornographic images at work "stated he is aware it is against government rules and regulations, but he often does not have enough work to do and has free time."
And the problem goes beyond mere salacious Web-surfing:
"It's not just casual porn viewing, but hours and hours of unproductive time doing things we shouldn't be condoning. There seems to be a need to reinforce agency rules that might be in place, but not enforced," Meadows said.
But before we get all blue in the face over insouciant feds spending taxpayer funds to twiddle their thumbs, consider the alternatives: EPA employees could watch porn all day or they could spend their time conducting SWAT raids on Alaskan miners, regulating emissions from wood-burning stoves, or harassing citizens for building stock ponds. A porn-watching government worker is a distracted government worker—and we might all be better off for it.