The Skeleton Twins and The Disappearance of Eleanor Rigby (Them)
Bill Hader and Kristen Wiig get serious, Jessica Chastain and James McAvoy sail the sea of heartbreak.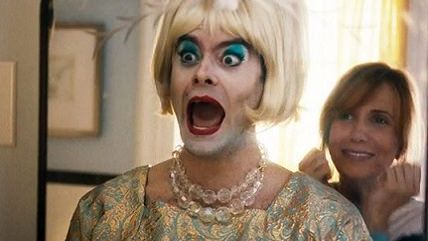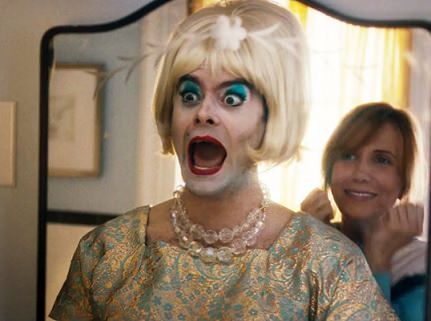 In The Skeleton Twins, Kristen Wiig and Bill Hader draw on their many years of professional togetherness—seven seasons of Saturday Night Live, five previous films—to set up the familial rhythms of a pair of troubled siblings. The movie isn't a straight comedy—the title characters are sunk in despair, and only steps away from suicide. But Wiig and Hader use their comic timing to create an easy intimacy, even in scenes in which nothing funny is going on. It's unusual to check in with actors we've watched for so long and find them doing something fresh—in fact, giving breakthrough performances. But that's what's happening here.
As the story begins, Maggie (Wiig) is contemplating an overdose-size fistful of pills when the phone rings. It's a call from a Los Angeles hospital, where her long-estranged brother Milo (Hader) has been admitted after beating her to the ending-it-all punch. Maggie flies out to LA and finds Milo—a failed actor, and now a failed suicide, too—feeling like "a tragic gay cliché." She brings him back to suburban New York, where they grew up and where she still lives. After years of heedless promiscuity, she's now settled down with a big, cheery lunk named Lance (Luke Wilson). They're even trying for a baby. Milo rolls his eyes. "I can't wait to be the creepy gay uncle," he says.
What's gone wrong with these two? They were totally devoted to each other as kids, but life has wedged them apart. Both were rocked by the death of their doting father, which left them in the scattershot care of their hippy-dip mom (Joanna Gleason). Maggie went looking for love in the usual wrong places, and 15-year-old Milo found affection with an older man—a pedophile relationship that Maggie blew the whistle on, enraging Milo, who still remembers it fondly.
The movie is a crowd-pleaser—it's warm and often funny—but it never shortchanges the characters' pain. Maggie tells Milo that she has grown up, and it's time he did, too. But she's still a mess. She does love Lance—he may be a goof, but he's a good guy, too. If only she could shake off her inclination for up-against-the-wall bathroom knee-tremblers with random dudes in local bars. "Maybe I should try fucking all my problems away," Milo snaps at her. "Maybe next time you should cut deeper," she snaps back.
The script, by director Craig Johnson and Mark Heyman (who wrote Darren Aronofsky's Black Swan), illuminates character and feeling in a series of inventively constructed scenes. There's a fart-centric nitrous-oxide binge that's pretty novel, and a bravura lip-synch setpiece that isn't a complete embarrassment. (It has Maggie and Milo flawlessly miming the words of the old Starship hit "Nothing's Gonna Stop Us Now" while projecting very different levels of meaning with their eyes.) Best of all is a long, glittering Halloween sequence, with Maggie and Milo setting off into the festive night in full costume (Milo resplendent in high-heel drag). Halloween was their dad's favorite time of year—he apparently approved of their getting matching skeleton tattoos at some point—and now they're celebrating it once again, as family ghosts gather round.
The movie is another impressive step up for Kristen Wiig, who re-channels her comic intelligence to fully reveal a woman wondering how she wound up in the emotional hole she's in, and how, or if, she'll ever get out. Support-wise, Luke Wilson deserves to have more scripts this good pitched his way—he's uncommonly moving toward the end here—and Ty Burrell has some fine scenes as a tormented book-store owner. But the picture belongs to Bill Hader, whose Milo is a tragic figure fending off darkness with barbed observations and a dwindling supply of hope. It's a serious performance by a gifted comic who's well on his way to someplace new.
The Disappearance of Eleanor Rigby (Them)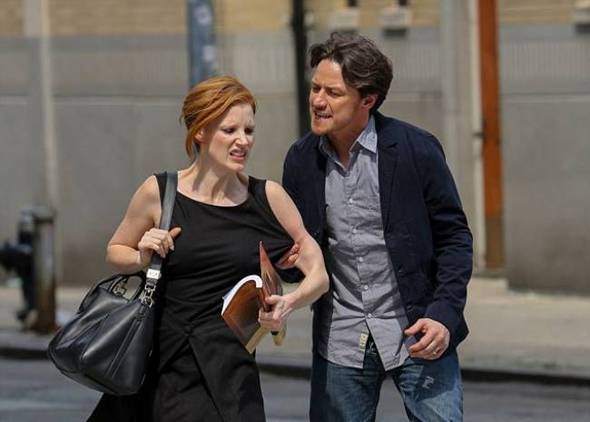 The Disappearance of Eleanor Rigby (Them) is all aftermath. It's the story of a marriage that has collapsed in the wake of an intimate tragedy, about which we are given few details. Information about the estranged parents and their difficult new lives emerges in passing dribs. The movie is solemnly contemplative; and despite strong performances by Jessica Chastain, James McAvoy and William Hurt, and a high level of filmmaking skill on the part of first-time writer-director Ned Benson, it's too elliptical to reward sustained interest. The picture's problems are frustrating, and their cause seems clear.
The movie is a condensation of two separate films that Benson intended to be shown back-to-back. One of them, subtitled Him, tells the story from the point of view of Conor Ludlow (McAvoy); the other (Her) from that of his wife, Eleanor Rigby (Chastain). Evidently, the purpose of this Rashomon-like, he-said-she-said format was to demonstrate the unstable nature of human recollection.
But when Harvey Weinstein acquired Benson's Rigby films at last year's Toronto International Film Festival, he must have realized that few, if any, mainstream theatre chains would be willing to make room in their blockbuster-heavy schedules for a pair of art movies with a combined runtime of more than three hours. So he prevailed upon Benson to remove over an hour of footage and to structure the remainder in a more straightforward manner (thus Them). Unfortunately, the effect of this was to eliminate the characters' contending memories—the heart of Benson's intention (although the director has said he was happy to go along with Weinstein's strategy, and is happy with the result).
The movie is set in Manhattan. It begins with Eleanor attempting to commit suicide by jumping off the Brooklyn Bridge. Emerging from a subsequent coma in a hospital, she is transported by her sister (Jess Weixler) to their parents' home in upscale Connecticut. Her father (Hurt) suggests she enter psychotherapy, but Eleanor is resistant. Her mother (Isabelle Huppert) wants her to return to school to finish her anthropology dissertation (in Paris—we're once again in the world of the white and well-off). Mom also reveals that she has canceled Eleanor's wireless account in an effort to isolate her from her turbulent life in the city.
This makes things difficult for Eleanor's estranged husband. Unable to reach her by phone, Conor worries that his wife has simply disappeared. Other problems are closing in on him, too. The downtown restaurant he owns is faltering, and he tells his chef (Bill Hader) that he'll soon have to close the place. His father (a magnetic Ciarán Hinds) could help—he's a successful restaurateur. But they have a prickly relationship, and Conor is reluctant to approach him.
Eleanor soon returns to the city to audit a college course in "identity theory" (this is a movie in which none of the main characters know who they really are) taught by Professor Friedman (Viola Davis). Conor spots Eleanor on the street one day, and before long they're tentatively interacting (amid flashbacks to happier days). Nothing is ever resolved, though, and the movie ends in a scene that might have been hauntingly suggestive if we weren't by that point weary of suggestion and longing instead for resolution.
However desultory the picture may feel, though, it has some luminous scenes. (The one in which Eleanor comes upon Conor asleep in the apartment they previously shared has a striking emotional delicacy.) Throughout the film, Chastain and McAvoy enter into their characters' heartbroken bewilderment with gripping conviction; and Hurt has possibly never been better than he is in recounting to Eleanor a long-ago day at the beach in which he nearly lost his little girl under a crashing wave. It's too bad that he also has to deliver a prime example of the movie's overcooked dialogue ("Tragedy is a foreign country—we don't know how to talk to the natives"). And even though the elder Rigbys were big Beatles fans, "Eleanor" would still seem an inauspicious choice of name for their baby. (At one strained point, someone actually sings a bit of that famously mournful song.)
The picture works best, in this abridged configuration, as an exploration of the vagaries of human attachment. Conor's father has just been abandoned by his third wife, and Professor Friedman has a buried yearning to reconnect with the child she left behind when her own marriage foundered. Eleanor's dad says the secret of his years-long union with her mother has for the most part been simple "endurance." We'd like to know a little more about these people, and Benson surely has more to tell us. Happily, Weinstein will be giving the original two films a limited, major-market release on October 10th. That could be worth waiting for.