Janay Rice Would Like You to Stop Watching Her Get Punched by Ray Rice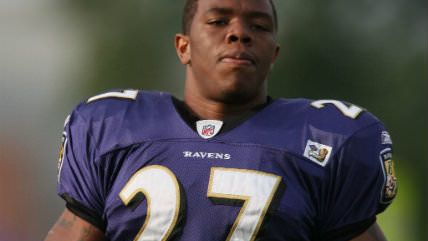 (Keith Allison/Wikimedia Commons)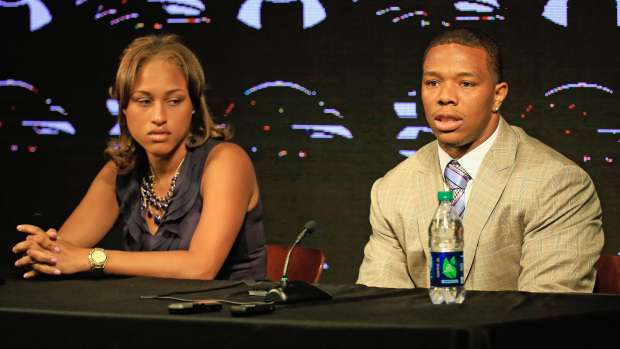 Janay Rice, wife (and sometimes victim) of former-NFL football player Ray Rice, is imploring people to stop coming to her defense, thanks. In a message posted to Instagram Tuesday morning, Janay wrote of "the pain that the media & unwanted options (sic) from the public" have caused her.
"If your intentions were to hurt us, embarrass us, make us feel alone, take all happiness away, you've succeeded on so many levels," she wrote.
I don't think that was the intention of the countless people sharing a video of Ray punching Janay in a casino elevator, or those calling for his dismissal from the Baltimore Ravens upon its release. Many people probably felt like they were helping. But as we saw with Rihanna and Chris Brown a few years ago, the urge to "help" particular partner-violence victims can result in a strange erasure of their agency. Dave Zirin criticized this tendency yesterday, noting a startling lack of concern for Janay's wishes when it came to the video of her being victimized:
No one cares that she is now going to have to relive this incident over and over again. No one cares that the world has now become privy to what may be the most humiliating moment of her entire life. No one cares that she's basically now being used as a soapbox with otherwise apolitical NFL commentators using her prone body to get on their high horse and safely blast the league.

(…) So if no one is going to talk about the welfare of the person who is actually subjected to the violence on that tape, let's talk about it here. I spent the morning communicating with people who work on issues involving domestic violence and violence against women nearly every day of their lives. They all said the same thing, without dissent: releasing this tape to the world is incredibly damaging to Janay Rice. Just as we would protect the name of an alleged rape victim, just as we would not show a video of Ray Rice committing a sexual assault, we should not be showing this video like it's another episode of Rich People Behaving Badly. If Janay Rice wanted to show this tape to the world, in other words if she had offered her consent, that is a different matter. But showing and reshowing it just because we can is an act of harm.
Keep in mind that the video wasn't released by anyone related to Rice or the National Football League. It came from gossip-publishing empire TMZ, which obtained it somehow from a casino employee.
Tragically, it seems (many people's) beleif is that seeing the video will shock people, advance the conversation and force action. Even some of the same people saying that nude photo hacks shouldn't be clicked on are saying people have an obligation to bear witness to what Rice did.
Zirin is skeptical of that logic, and so am I. Luckily, a far better way to bear witness to the abuse some inflict on their partners—and how complicated it can be to get out of an abusive relationship—has sprung up, in the form of the Twitter hashtags #WhyIStayed and #WhenILeft. Powerful, heartbreaking stuff, and I urge you to check it out if you haven't yet. As for what Janay herself thinks, here's her full message from Instagram: