Cops Storm Texas High School to Investigate Miscarriage 'Suspect'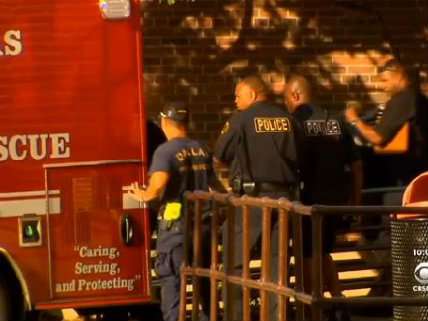 It's hard to say what's most disturbing about this tale from a Texas high school. Certainly, a fetus found in a girl's restroom is one cause for alarm. But the way local law enforcement handled the situation is even more chilling.
The cops were called to Dallas' Woodrow Wilson High School last Friday afternoon, when a custodian found a fetus in a second-floor student bathroom. At the time, police had no idea about the identity of the mother, nor what happened to her pregnancy. But considering that miscarriage is incredibly common and self-induced abortions in the school bathroom are not, the former explanation seems like a fairly good place to start.
The Dallas cops, however, saw things differently. They showed up a Woodrow Wilson High ready to Fight Crime—one student reported seeing a police helicopter on the scene.
"Police have been saying all along whoever's responsible for this is being considered a suspect," said KDFW reporter Brandon Todd in broadcast Friday evening. "The child abuse division is heading up the investigation. However, they do hope the mother will come forward on her own."
Why would she come forward on her own when the police immediately pegged her as a criminal? And while we're asking questions—is anyone surprised that the cops had things wrong?
Our "suspect" was eventually identified and—whattaya know?—she suffered a miscarriage. Police have "spoken to all involved" and the matter is no longer considered a criminal case, a spokesperson for the Dallas Police Department said Tuesday.