Russia Conducting 'Stealth Invasion' of Ukraine, IMF Chief Christine Lagarde Under Investigation, Will 'Full House' Return? P.M. Links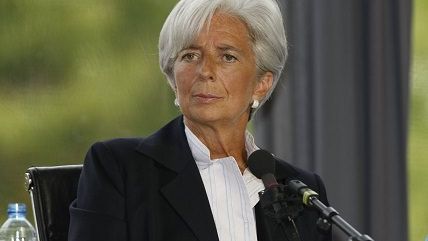 MEDEF / Flickr

Russian troops and tanks have entered Ukrainian territory as part of a "stealth invasion," according to The New York Times.

French officials have placed Christine Lagarde under investigation. Lagarde is head of the International Monetary Fund, but her previous stint as finance minister under French President Nicolas Sarkozy has landed her in hot water.
The NFL decided to leave Josh Gordon's one-year suspension for substance abuse in place.
Joe Scarborough of MSNBC's Morning Joe said the Constitution doesn't apply to kids, because one time something bad happened with a gun.
Rick Perry has opted to pay his own legal fees rather than ask taxpayers to foot the bill for the curious ethics investigation of which he is the target.
Sweet Zombie Jesus: the TV show "Full House" may be revived.
Follow Reason and Reason 24/7 on Twitter, and like us on Facebook. You can also get the top stories mailed to you—sign up here.